Mexican Gothic
Format:Paperback
Publisher:Quercus Publishing
Published:15th Jun '21
£9.99
Available for immediate dispatch.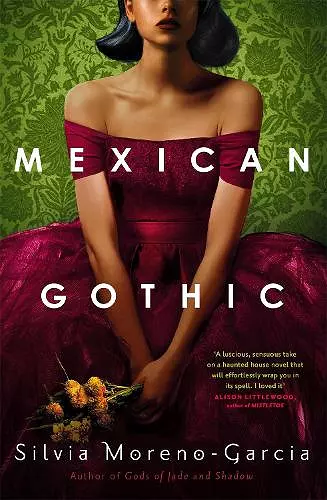 A glamorous young socialite discovers the haunting secrets of a mysterious mansion in 1950s Mexico: a mesmerising feminist Gothic fantasy, 'Darkly brilliant' Yangtze Choo, author of The Ghost Bride
The award-winning author of Gods of Jade and Shadow (one of the 100 best fantasy novels of all time, TIME magazine) returns with a mesmerising feminist Gothic fantasy, in which a glamorous young socialite discovers the haunting secrets of a beautiful old mansion in 1950s Mexico.

He is trying to poison me. You must come for me, Noemí. You have to save me.

When socialite Noemí Taboada receives a frantic letter from her newlywed cousin begging to be rescued from a mysterious doom, she immediately heads to High Place, a remote mansion in the Mexican countryside, determined to discover what is so affecting her cousin. Catalina has always had a flair for the dramatic, but her claims that her husband is poisoning her and her visions of restless ghosts seem remarkable, even for her.

Tough and smart, Noemí possesses an indomitable will, and she is not afraid: not of her cousin's new husband, who is both menacing and alluring; not of his father, the ancient patriarch who seems to be fascinated by Noemí; and not of the house itself, which begins to invade Noemi's dreams with visions of blood and doom.

Her only ally in this inhospitable abode is the family's youngest son. Shy and gentle, he seems to want to help, but might also be hiding dark knowledge of his family's past, their once colossal wealth and a faded mining empire.

As Noemí digs deeper, she unearths stories of violence and madness, and she may soon find it impossible to leave this enigmatic house behind . . .

PRAISE FOR MEXICAN GOTHIC

'The subversive, seductive, satisfying haunted house story I didn't know I needed' - Alix E. Harrow, author of The Ten Thousand Doors of January

'Moreno-Garcia's gothic plot is as sharp as a razor and twice as dangerous' - A. J. Hackwith, author of The Library of the Unwritten

'Masterful . . . a gloriously moody adventure.' - Victor LaValle, author of The Changeling

'Darkly brilliant and captivating . . . Moreno-Garcia enthralls with this...
Clever, wicked and winning. Moreno-Garcia well and truly hits the mark with Mexican Gothic * Angela Slatter, author of the World Fantasy Award-winning The Bitterwood Bible and Other Recountings *
Blends chilling scenes of all-out horror with elements of traditional gothic . . . It's Lovecraft meets the Brontës in Latin America * Guardian *
With peculiar characters, a family curse and enough suspense to hold the reader's attention, it is the perfect summer read * The Lady *
This pitch-perfect Gothic tale is a delicious, delicious delight * Heat *
Masterful . . . a gloriously moody adventure. Spooky, smart, and wry. Chic, no-nonsense Noemí Taboada is one hell of a tour guide through this world of mystery, scandal and spirits * Victor LaValle, author of The Changeling *
Darkly brilliant and captivating. Readers who love old houses and family secrets will devour this book (as I did!). The setting itself - High Place, with its reputation for devouring the dreams of young women - is a character in this marvelously fantastical novel. From 1950s glamorous Mexican high society to the crumbling pride of an abandoned silver mine, Moreno-Garcia enthralls with this twisty tale of love and betrayal * Yangsze Choo, New York Times bestselling author of The Night Tiger and The Ghost Bride *
Tense, atmospheric and beautifully written, Mexican Gothic will carry readers back in time to 1950s Mexico where a dark secret looms large, insidiously winding its way through the pages. A spellbinding, suspenseful, immersive read! * Chanel Cleeton, New York Times & USA Today bestselling author of The Last Train to Key West *
A gorgeous piece of work . . . absolutely terrifying, and it has stayed with me in a powerful way * Sarah Gailey, Hugo Award-winning author of Magic for Liars *
So powerful I sometimes had to look away . . . plays all the classic Gothic tropes with deft confidence while weaving in a much more modern and visceral strain of horror * Vivian Shaw, author of the Dr Greta Helsing series *
Stylish and sinister . . . a gothic masterpiece * Gwenda Bond, New York Times bestselling author of Stranger Things: Suspicious Minds *
A fitting example of a new American Gothic novel, as Moreno-Garcia re-imagines this classic genre. You'll certainly find yourself caught between gasps of horror as you start to unravel this mysterious story, just remember to leave the light on as you sit down for a good read * Starburst *
When it comes to the horror, though, Moreno-Garcia gets it absolutely right... it's enormously fun * Telegraph *
Moreno-Garcia is having a blast playing with the conventions of Gothic literature * Locus *
Moreno-Garcia writes with heated abandon . . . Mexican Gothic's fearsome storytelling can't be contained * Shelf Awareness *
Moreno-Garcia weaves elements of Mexican folklore with themes of decay, sacrifice, and rebirth, casting a dark spell all the way to the visceral and heart-pounding finalé. Fans of gothic classics like Rebecca will be enthralled * Kirkus *
Mexican Gothicterrified and fascinated me. Silvia Moreno-Garcia proves once again that she's a genre-jumping wizard, one of the most exciting and necessary authors writing today * Charlie Jane Anders, award-winning author of The City in the Middle of the Night *
A shiver-inducing tale combining touches of Northanger Abbey with bits of the Gormenghast trilogy thrown in for good measure . . . a fascinating atmosphere of dark dreams and intrigue * Booklist *
Moreno-Garcia's energetic romp through the gothic genre is delightfully bonkers . . . [getting] wilder and stranger with every chapter * Publishers Weekly *
[An] original, well-paced novel . . . great gothic elements with a little VanderMeer creativity thrown in * Library Journal *
An inspiring and totally original homage to Gothic stories of yore, Moreno-Garcia introduces readers to an awesomely creepy place and extremely evil family whose grip on power relies upon their ability to trap others in their venomous web . . . this is not your mother's Gothic tale * Becky Spratford, RA for All *
Heart-thumping thriller-chiller * Lancashire Evening Post *
This twisty horror fantasy is engrossing and wonderfully repulsive * Buzzfeed *
A gothic chiller, set in 1950s Mexico, that will clamp you in its icy embrace and linger like a nightmare * Daily Mail *
A gripping read and, despite the horror and violence of the story, it's a strangely beautiful one. This is an impressive chiller-thriller; the writing is steeped in the spirit of the Victorian gothic tale and it's as well done as any recent homage * Barry Forshaw on Crime Time *
Immersive and suspenseful, Mexican Gothic is up there with this year's best novels * Culturefly *
Intriguing and disturbing, what starts as a slow burn ends up an unsettling edge-of-the-seat page-turner * The Skinny *
There are echoes of Mary Stewart and Daphne du Maurier, but Moreno-Garcia has plenty of satisfying twists of her own * i news *
A superb fireside evening read * NB magazine *
A pitch-perfect Gothic novel . . . You will be left unsettled, unsteady, and uncertain. You will also be left satisfied * NPR *
The genre's palette is typically limited, but it doesn't necessarily have to be-as Mexican Gothic amply, deliriously, and gloriously demonstrates. No lazy afternoon spent reading it will ever feel wasted * Slate *

It's as if a supernatural power compels us to turn the pages of the gripping Mexican Gothic
* The Washington Post *
A period thriller as
rich in suspense
as it is in
lush '50s atmosphere
* Entertainment Weekly *
The books starts off with a mystery and slowly descends into horror that grips you to the page
* Uptown Oracle *
I love a good gothic horror novel and
Mexican Gothic didn't disappoint
* The Indian Express *
Gripping, terrifying, atmospheric and suspenseful
* Big Issue North's best books of 2020 *
A
deeply, creepy read
...
builds to a strange, pulsing, psychedelic ending
* SFX Magazine *
This novel gives classic tropes a fresh and thrilling take
* Big Issue: Top 5 books if you're into Gothic tales *
ISBN: 9781529402681
Dimensions: 196mm x 128mm x 24mm
Weight: 228g
320 pages