Mountainfell
Format:Paperback
Publisher:Walker Books Ltd
Published:3rd Nov '22
£7.99
Available for immediate dispatch.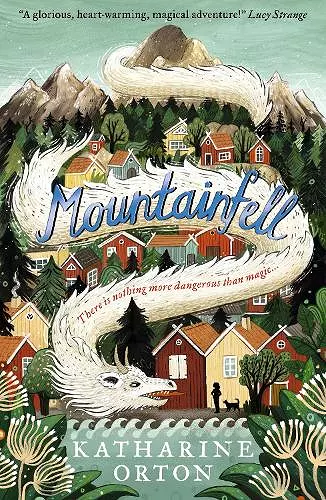 "Glorious!" Lucy Strange, author of Sisters of the Lost Marsh

Perfect for fans of Abi Elphinstone and Sophie Anderson

There is nothing more dangerous than magic...

Eleven-year-old Erskin is used to danger; she lives in the shadow of Mountainfell, a place of wild creatures and dangerous magic. When the most powerful and deadly creature of all – the fearsome cloud dragon – snatches Erskin's sister away, Erskin must face her greatest fear and journey onto the mountain to bring her back. A terrible power is stirring, and it is up to Erskin to save both her family and her home.


Praise for Mountainfell:

"A delightful story." Books for Keeps

"A glorious, heart-warming, magical adventure!" Lucy Strange, author of Sisters of the Lost Marsh

"A fantastical, perilous adventure, full of intrigue and self-discovery." Amy Wilson, author of A Girl Called Owl

Praise for Glassheart:

"With echoes of Susan Cooper, this has all the feel of a classic." Sarah Baker

"A masterfully written story surging with powerful energy." Sinéad O'Hart

"Orton's fantastical world is creepily drawn; even better is her understanding of grief, suffering and healing." Observer

"Rich and atmospheric, Glassheart feels like a long-lost folktale brimming with ghostly magic." Jennifer Bell

"Katharine Orton writes about history as someone who understands it, and about magic as though she could probably do it. Shatteringly good." Nick Tomlinson

"Glassheart shimmers with magic and adventure... A story that left a sparkling splinter in my soul." Damaris Young

Praise for Nevertell:

"This is fantasy at its best." Daily Telegraph

"A coming-of-age tale that's compelling, exciting and as chilling as the snow-bound landscape in which it is set." Financial Times

"Readers will be captivated … A magical, snowy adventure perfect for winter nights." BookTrust

"Featuring themes of bravery, friendship, sorcery and survival, this beautifully written story is ideal for fans of magical adventure tales." The Week Junior

"A tale that sparkles with frosty magic." Thomas Taylor

"Orton's use of language is masterful and her vivid descriptions bring the journey to life … Perfect to snuggle...
Mountainfell is an exquisitely imagined fairy tale that sizzles with magic and adventure, and is layered with thought-provoking themes of caring for the natural environment and embracing your own weirdness. With its sky-soaring dragons and terrifying witches, it is sure to delight fans of Abi Elphinstone. And its wild mountain setting, brave protagonist and endearing animal sidekick makes it perfect for fans of Nizrana Farook too. -- Hana Tooke
Full of gorgeously wild and wonder-full magic, with a fierce and fabulous heroine and a powerful message at its heart. -- Stephanie Burgis
A glorious, heart-warming, magical adventure! Lucy Strange -- Lucy Strange
A wonderful fantasy adventure to sweep readers into a world full of dragons, heroism and magic -- Andrea Reece * LoveReading4kids *
This is a delightful story with a feeling of Scandinavian legends running through it [...] At its heart it is a tale about family, love and friendship and how they can be tested by external circumstances. * Books for Keeps *
ISBN: 9781529503296
Dimensions: 198mm x 129mm x 19mm
Weight: 223g
320 pages