The Extra Mile
The Inspirational Number One Bestseller
Format:Hardback
Publisher:Cornerstone
Published:25th May '23
£20.00
Available to order, but very limited on stock - if we have issues obtaining a copy, we will let you know.
This hardback is available in another edition too: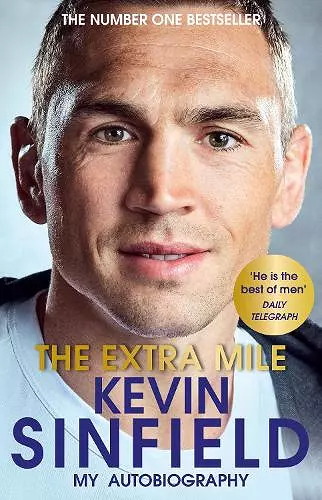 THE INSPIRATIONAL NUMBER ONE BESTSELLER

The extraordinary memoir of the sporting icon, devoted friend and fundraising hero who has inspired the nation in his fight against MND

'A very British hero, the unassuming yet utterly superb Kevin Sinfield – rugby league great turned rugby union coach turned charity fundraiser, all while carrying a torch for the true meaning of sport and friendship. The Extra Mile tells how Sinfield set about raising money to combat motor neurone disease, the appalling condition that has gripped his former Leeds Rhinos teammate and best pal, Rob Burrow. If Sinfield weren't such a modest man, his story could be subtitled, How to Be a Decent Person.' The Times, Sports Books of the Year, 2023

'An inspirational and life-affirming read. What Kevin Sinfield has achieved on and off the field is truly remarkable. His inspiring leadership and relentless focus on fundraising for MND shows how we should all strive to care more for each other' Gareth Southgate

'If you want inspiring, uplifting and empowering... give this amazing man some of your time' Jake Humphrey

'Kevin Sinfield is adored and respected . . . he is the best of men' Brian Moore, Daily Telegraph

'I've always thought Kevin Sinfield was a hero. His quiet, calm, committed leadership makes people want to support him and we are all doing that as he supports Rob Burrow and everyone living with MND' Clare Balding

'The friendship between Kevin Sinfield and Rob Burrow gives you faith in humankind' Sir Chris Hoy

The Extra Mile is no ordinary sports memoir. But Kevin Sinfield is no ordinary sportsman. A one-club legend of Leeds Rhinos, who has now crossed codes as a defence coach for the England national rugby union team, Kevin Sinfield is a rugby icon. But in recent years has shown heroism of a very different kind through his selfless and extraordinary fundraising for motor neurone disease (MND), the terminal illness that has affected his best mate and former teammate Rob Burrow.

Sinfield's epic challenges have included running 7 ultra marathons in 7 days, and running over 101 miles in 24 hours. In the process, Sinfield has captured the hearts of the nation and over £7 million for...
An inspirational and life-affirming read. What Kevin Sinfield has achieved on and off the field is truly remarkable. His inspiring leadership and relentless focus on fundraising for MND shows how we should all strive to care more for each other -- Gareth Southgate
If you want inspiring, uplifting and empowering... give this amazing man some of your time. -- Jake Humphrey
A beautiful portrayal of friendship...unforgettable -- Ian Herbert * Daily Mail *
A hero -- Clare Balding
He is the best of men * The Telegraph *
ISBN: 9781529903058
Dimensions: 236mm x 162mm x 34mm
Weight: 600g
320 pages