Encyclopedia of Norse and Germanic Folklore, Mythology, and Magic
Format: Hardback
Publisher: Inner Traditions Bear and Company
Published: 28th Jul '16
£25.00
Available to order, but very limited on stock. If we have issues obtaining a copy, we will let you know..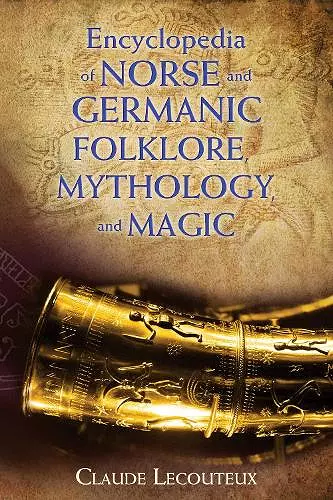 A thorough reference to the many deities, magical beings, mythical places, and ancient customs of the Norse and Germanic regions of EuropeThe legends of the Norse and Germanic regions of Europe--spanning from Germany and Austria across Scandinavia to IcelEngland--include a broad range of mythical characters and places, from Odin and Thor, to berserkers and Valhalla, to the Valkyries and Krampus. In this encyclopedia, Claude Lecouteux explores the origins, connections, and tales behind many gods, goddesses, magical beings, rituals, folk customs, and mythical places of Norse and Germanic tradition.
More than a reference to the Aesir and the Vanir pantheons, this encyclopedia draws upon a wealth of well-known and rare sources, such as the Poetic Edda, the Saga of Ynglingar by Snorri Sturluson, and The Deeds of the Danes by Saxo Grammaticus. The author describes the worship of the elements and trees, details many magical rituals, and shares wild folktales from ancient Europe, such as the strange adventure of Peter Schlemihl and the tale of the Cursed Huntsman. He also dispels the false beliefs that have arisen from the Nazi hijacking of Germanic mythology and from its longtime suppression by Christianity.
Complete with rare illustrations and information from obscure sources appearing for the first time in English, this detailed reference work represents an excellent resource for scholars and those seeking to reconnect to their pagan pasts and restore the old religion.
"For libraries with specialized collections in anthropology, folklore, and mythology." * Library Journal, Patricia D. Lothrop, May 2016 *
ISBN: 9781620554807
Dimensions: 229mm x 152mm x 28mm
Weight: 739g
352 pages