Blanket
Format: Paperback
Publisher: Bloomsbury Publishing PLC
Published: 20th Sep '18
This title is currently unavailable, but we can notify you if and when it becomes available again.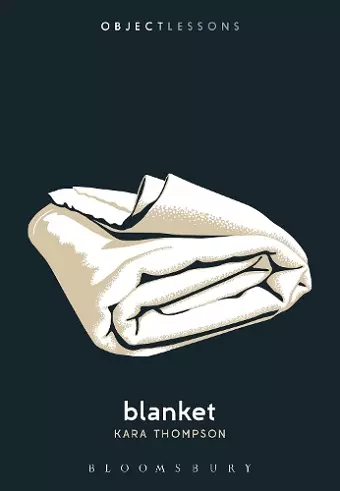 Blanket explores covers in everyday contexts, "New World" colonial encounters, contemporary art, emerging economies, and collecting practices to show how the blanket is not just an object of utility, but one that provides lessons in metaphor, viruses, and secrets.
Object Lessons is a series of short, beautifully designed books about the hidden lives of ordinary things. We are born into blankets. They keep us alive and they cover us in death. We pull and tug on blankets to see us through the night or an illness. They shield us in mourning and witness our most intimate pleasures. Curious, fearless, vulnerable, and critical, Blanket interweaves cultural critique with memoir to cast new light on a ubiquitous object. Kara Thompson reveals blankets everywhere--film, art, geology, disasters, battlefields, resistance, home--and transforms an ordinary thing into a vibrant and vital carrier of stories and secrets, an object of inheritance and belonging, a companion to uncover. Object Lessons is published in partnership with an essay series in The Atlantic.
There is nothing trivial about this little book. It addresses one ostensibly ordinary object – a blanket – but quickly turns your ideas on their heads … Author Kara Thompson traverses a continent of meanings and implications, focusing on various artworks that use some type of blanket motif, or actual blankets, to illustrate metaphorical blankets, especially ones that deal with death. You will appreciate her brilliant analysis of these artworks and their synthesis with themes of colonialism, subjugation, memory, and survival, which is sensitive and detailed. Entwined through the story is a very personal and vulnerable story, in which Thompson wraps these blankets' abstraction into her individual experience. The book will stay with you for a long time. * Seattle Book Review *
Thompson has contributed a fine addition to the Object Lessons series and provided some interesting starting points from which scores of other ideas can be explored. * PopMatters *
The gift of these volumes is how they tease out the unexpected associations and implications of their subjects, and Kara Thompson's Blanket is no exception … Thompson weaves together in her Blanket dichotomous ideas about blankets—art versus utility, hard shells versus soft wraps, infection versus protection—to illuminate the ways in which these may all be different sides of the same thing … Kara Thompson continues through her "unfoldings" to educate and surprise readers with new threads to follow and contemplate long after the small, but densely woven Blanket ends. * New York Journal of Books *
Liquid brilliance blankets this book, making its forays endlessly moving—and often surprising. Simply exquisite in all its folds. * Kathryn Bond Stockton, Distinguished Professor of English, University of Utah, USA, and author of The Queer Child, or Growing Sideways in the Twentieth Century (2009) *
Kara Thompson's Blanket is an elegant, nearly seamless weaving through Native politics and histories, American violence, personal loss and remembrance, psychoanalysis and healing, geology, artworks and literature--varied stitches and detail toward the greater themes and design of comfort, protection, trauma, loss, and the disparate turnings of human living. Kara Thompson has stirred a deep desire in me to understand. . . to understand what? I ask myself. It is not the what, so much as the what is not: What is not seen, but within the folds. What is not often considered, but like a blanket, felt with 'a kind of muscle memory [. . .] the trace of habitation.' What is rarely accounted for in language, signifiers and terms, such as the 'affect, kinship, ceremony, inheritance, story' that imbue anything with real meaning. This book draws unexpected connections and links from one subject to the next. And in the spaces between those connections, there is a magic I have, until now, only known to exist in poetry. From one paragraph to the next, I discover something more of myself, hidden or maybe even protected, both grieving and comforted, tightly threaded within all these blankets. * Layli Long Soldier, author of Whereas (2017), winner of the National Book Critics Circle Award for Poetry *
ISBN: 9781628922653
Dimensions: unknown
Weight: 178g
192 pages