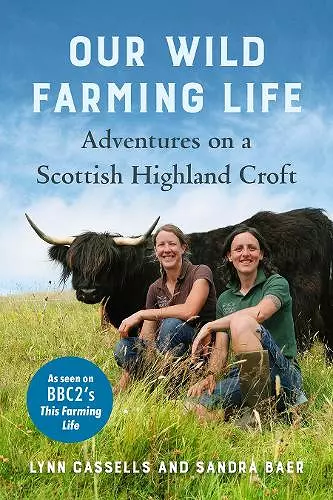 [F]or anyone who has ever sat in a city office dreaming of owning a smallholding one day and living off the land, this book will inspire them to take the plunge. Rated 5 stars by The Telegraph
I raced through this beautiful story with mounting awe and excitement. What Lynn and Sandra have achieved on their croft in Scotland is a miracle of rebirth on land Isabella Tree, author of Wilding
The inspiring story of two courageous women who took the leap and embraced a whole new way of life. Kate Humble, author of Home Cooked
As seen on the BBC's This Farming Life 
Our Wild Farming Life is what happens when you follow your dreams of living on the land; a story of how two people became farmers – and how they learned to make a living from it, their way.
Lynn and Sandra left their friends, family and jobs in England to travel north to Scotland to find a small piece of land they could call their own. They had no money, no plan and no experience in farming. They had in mind keeping a few chickens, a kitchen garden and renting out some camping space, but instead, they fell in love with Lynbreck Croft – 150 acres of wild Scottish Highlands filled with opportunity and beauty, shrouded by the Cairngorms mountains.
This is the inspirational true story of Lynbreck Croft – a regenerative Scottish croft rooted in local food and community – and the dreams of two women in search of a new, wilder existence.
In Our Wild Farming Life, Lynn and Sandra recount their experiences as they rebuild their new home and work out what kind of farmers they want to be. They learn how to work with Highland cattle, become part of the crofting community and begin to truly understand how they can farm in harmony with nature to produce wonderful food for themselves and the people around them. Through efforts like these, Lynn and Sandra have been able to combine regenerative farming practices with old crofting traditions to keep their own personal values intact.
'I raced through this beautiful story with mounting awe and excitement. What Lynn and Sandra have achieved on their croft in Scotland is a miracle of rebirth on land that most would have considered beyond hope. Their success is testament to the wisdom of working with nature rather than battling against it and their pragmatism, honesty and openness to new and old ideas shines through on every page. I hope it inspires legions of new farmers.'—Isabella Tree, author of Wilding
'A ripping good account of the guts, luck and perseverance it takes to create a productive and healthy farm or croft that jumps the rails of our conventional industrial agriculture.'—Nick Offerman
'Full of refreshing honesty and a burning passion to reconnect food, communities and nature, what Lynn and Sandra have achieved is nothing short of incredible. These two are the real deal; humble pioneers during a critical time working selflessly to empower others. Lynbreck Croft is the embodiment of how humans should approach food production, and this book serves as an invaluable resource for anybody who has an interest in a regenerative future.'—Huw Richards, author of The Vegetable Grower's Handbook
'The inspiring story of two courageous women who took the leap and embraced a whole new way of life. Lynn and Sandra, I salute you!'—Kate Humble, broadcaster and author of Home Cooked
'This is a story that needed to be told. I defy anyone to be in the presence of Lynn and Sandra for ten minutes and not come away inspired and with a smile. Arriving in the Highlands with a dream and very little else apart from determination, enthusiasm, passion, warmth and humility, they were not afraid to learn from mistakes and to seek help and advice.
'The Highlands can be a welcoming place, but you have to earn it. Folk here won't beat a path to your door unless you leave it wide open. And they did it. Neighbours embraced their dream and wanted to make it happen. To be a part of it. The gift of a cow. The gift of fuel. The gift of thousands of years of experience, knowledge and a love for the land.'—Euan McIlwraith, BBC TV and Radio presenter
'Many of us dream of going "back" to the land. Lynn Cassells and Sandra Baer have made it happen. In this inspirational, honest and quietly revelatory book they show how farming is not a lifestyle fantasy but a way of living, working and eating that is in partnership – with the land, the community, animals and each other. This is not a step back but the key to all our futures.'—Patrick Barkham, author of Wild Child 
"Their work on the croft is a true community endeavor....Our Wild Farming Life is a warm yet realistic chronicle of the world of the small-time farmer, sharing a vision of how we humans can feed ourselves sustainably and ethically while living in harmony with the natural world."—Booklist
ISBN: 9781645020707
Dimensions: 229mm x 153mm x 32mm
Weight: 567g
224 pages