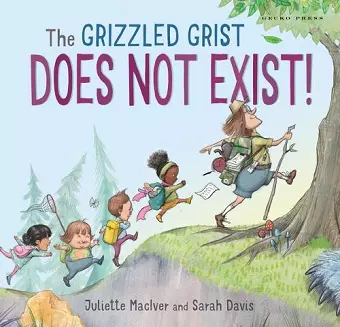 "The recipe of quiet Liam, frazzled teacher and raucous classroom, told with humour and rhyme, is irresistible."  Julia Marshall, Publisher
An exuberant rhyming picture book about a school trip to the hills, where no one sees the danger—apart from quiet Liam, who pays attention and saves the day with his particular skill of hiding.
An exuberant read aloud story about a school trip outdoors with rhyming word play and madcap energy, starring the quiet observant Liam. From the awardwinning creators of That's Not a Hippopotamus.
It's the class trip to Dismal Hills wilderness. The children aren't worried about the legendary Grizzled Grist who lives here; they're excited to show off their outdoor skills—foraging, climbing, trapping and hiking. No one's impressed with quiet and observant Liam's skill of hiding. But it turns out a hider can see what others think does not exist.
A hider moves with soundless ease and treads as softly as the breeze.
At times, a hider barely breathes—but what is this the hider sees?
Liam spots—and careful readers will too—signs of the Grist on every spread.
When the children and their frazzled teacher walk confidently into disaster, observant Liam saves the day—a triumph for the quiet child no one notices.
This clever rhyming story for children aged 2 to 7 years features humor and call and refrain wordplay that will entertain toddlers, preschoolers and early readers. Children delight in spotting the elusive Grizzled Grist and identify with sweet Liam, the quiet but observant boy who no one listens to. Sarah Davis's charming and lively illustrations tell a different story about where Liam and the Grist are hiding on every page. Perfect for reading together again and again as a family, in the school classroom or independently, this picture book features a cast of diverse characters and funny and curious children. 
This book is for any child who enjoys a boisterous read-aloud with spot-the-Grist on every page. It's also excellent for schools and groups—equally enjoyed by frazzled teachers.
Funky Kids Radio Global Picture Book of the Year Award 2022 winner. 
"A bouncy read-aloud that will tickle children and adults alike."
-- Kirkus Reviews
"Championing the feats of the 'hiders' of this world, this vibrant and charming picture book is an enchanting and triumphant tale for early-years adventurers, bursting with wonderment and the diversity of people, skills and nature."
-- Books + Publishing
"If you can write a book in which the phrase "It's finis diem!" successfully rhymes with "He's eaten Liam!" then I will be your friend for life."
* School Library Journal *
"Juliette MacIver is so far ahead of the pack when it comes to perfect, lip-smacking rhyming books."
-- The Sapling, New Zealand
"Hilarious with lots to spot."
-- Stuff, 22 Best Books of 2022
Winner of Funky Kids Radio Global Picture Book of the Year Award 2022 (Australia)
ISBN: 9781776574162
Dimensions: unknown
Weight: unknown
36 pages