This is a special Signed Edition, and has very limited quantity available
The Wrong Person to Ask Signed Edition
Format:Paperback
Publisher:Bloodaxe Books Ltd
Published:19th Oct '23
Currently unavailable, our supplier has not provided us a restock date
This paperback is available in another edition too: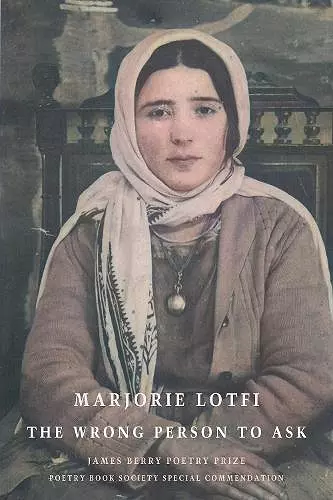 Winner of the James Berry Poetry Prize. Marjorie Lotfi's award-winning debut collection is a book of two halves, each a meditation on the idea of home, both the places we start and end up in our lives. Spanning a childhood in Iran dislocated by revolution, through years as a young woman in America, to her current home in Scotland, these poems ask what it means to come from somewhere else, what we carry with us when we leave, and how we land in a new place and finally come to rest.
The Wrong Person to Ask by Marjorie Lotfi is a wondrous treasure – elegant poems of great tenderness and detail, vivid in heart and imagery, mesmerising in power. Whole worlds and people shimmer alive through scenes and stories of exile, departure, arrival, but most importantly, clear witness and remembrance. A deeply honouring book fully built of love.
-- Naomi Shihab Nye
In this unforgettable and assured debut collection, Lotfi explores issues of belonging and identity – firstly the lost world of an Iranian childhood through the eyes of a young refugee and ultimately the found worlds of America and Scotland. She brilliantly illustrates the little tragedies of global politics by focussing on the luminous, ordinary rituals of daily life. These are poems built both to haunt and reaffirm us; poems of the living, breathing world and our overarching right to find a home in it.
-- John Gle
ISBN: 9781780376394-S
Dimensions: 234mm x 156mm x 8mm
Weight: 160g
80 pages