Life According to Linus
Format:Hardback
Publisher:Canongate Books
Published:21st Apr '16
£8.99
Available for immediate dispatch.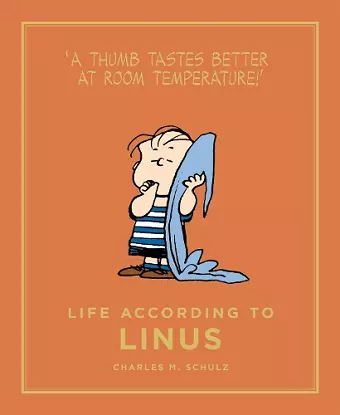 The little boy with the blanket shares his wisdom in this great addition to this series of Peanuts gift books
Best friend to Charlie Brown, brother to Lucy, lovable Linus shares his outlook on life in this beautifully produced gift book for all generations. In his incomparable style, Linus spends his days fiercely protecting his security blanket, dodging the insults of his big sister, considering the flavour of his thumb and waiting for the Great Pumpkin to finally appear.

For the millions of faithful Charles Schulz fans, and those who fondly remember this philosophical little boy with his blanket, this new series of books sees the beguiling Peanuts gang share their sentiments on everything from food to friendship.
I became obsessed . . . It's hilarious. We all went to school with a Lucy, or a Linus -- JUDE LAW
It's impossible to think of another popular art form that reaches across generations the way the daily comic strip does . . . at the pinnacle of that long tradition, there was Charles Schulz * * Seattle Times * *
The world of Peanuts is a microcosm, a little human comedy for the innocent reader and for the sophisticated -- UMBERTO ECO
Charles Schulz was, plain and simple, a great artist and philosopher . . . But most importantly, he teaches all ages that if you can learn to laugh at the things that cause you the most pain you will be the strongest of all. Peanuts: a real way of life -- JOHN WATERS
Charles Schulz was an American treasure - an artist, philosopher, and keen observer of human life -- BILL CLINTON
ISBN: 9781782113713
Dimensions: 158mm x 139mm x 14mm
Weight: 170g
80 pages
Main