What Happened, Miss Simone?
A Biography
Format:Paperback
Publisher:Canongate Books
Published:2nd Mar '17
£9.99
Available for immediate dispatch.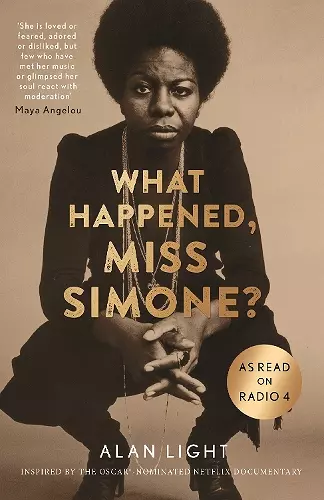 Inspired by the Oscar-nominated Netflix documentary, What Happened, Miss Simone? isan intimate and vivid portrait of the twentieth-century icon Nina Simone.
'From her raging, handwritten letters to late-night phone calls with David Bowie, this biography gets up close and personal with the tempestuous Nina Simone' Observer

Drawing on glimpses into previously unseen diaries, rare interviews and childhood journals, and with the aid of her daughter, What Happened, Miss Simone? tells the story of the classically trained pianist who became a soul legend, a committed civil rights activist and one of the most influential, provocative and least understood artists of our time.

This is the story of the real Miss Simone.
Her willingness to speak her mind shines out of every page * * The Times * *
Arrestive telling of the high priestess of soul's life story...What makes this portrait so compelling are the extras; think of the book as a director's cut * * MOJO * *
She is loved or feared, adored or disliked, but few who have met her music or glimpsed her soul react with moderation -- Maya Angelou
Explores the huge impact [Nina Simone] made for civil rights through her music, as well as her activism * * Observer * *
Traces a path through the sad and bewildering tangle that was Simone's life * * Telegraph * *
Nina Simone was an overwhelming artist, piano player, and singer - the kind of artist that I loved and admired -- Bob Dylan
Electrifying . . . Captures how unique and real she was on every page -- Alicia Keys
Absorbing * * Craig Brown, Mail on Sunday * *
A gripping (if often grim) portrait of a woman and her legend * * Louis Wise, Sunday Times * *
Decent, respectful, conscientiously crafted and even-handed * * Uncut * *
ISBN: 9781782118749
Dimensions: 198mm x 129mm x 20mm
Weight: 239g
320 pages
Main