A Short History Of Myth
Format:Paperback
Publisher:Canongate Books
Published:2nd Aug '18
£9.99
Available to order, but very limited on stock - if we have issues obtaining a copy, we will let you know.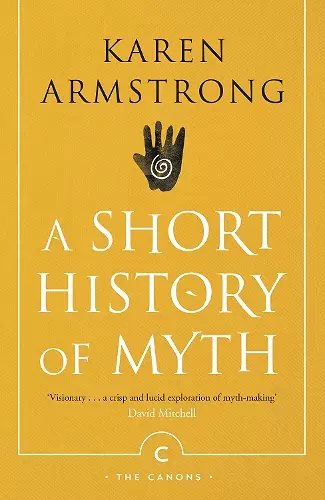 A 'visionary . . . crisp and lucid exploration of myth-making' (DAVID MITCHELL) from the bestselling author of A History of God
As long as we have been human, we have been mythmakers. In A Short History of Myth, Karen Armstrong holds up the mirror of mythology to show us the history of ourselves, and embarks on a journey that begins at a Neanderthal graveside and ends buried in the heart of the modern novel.

Surprising, powerful and profound, A Short History of Myth examines the world's most ancient art form - the making and telling of stories - and why we still need it.

The Myths series brings together some of the world's finest writers, each of whom has retold a myth in a contemporary and memorable way. Authors in the series include Karen Armstrong, Margaret Atwood, A.S. Byatt, David Grossman, Natsuo Kirino, Alexander McCall Smith, Philip Pullman, Ali Smith and Jeanette Winterson.
Elegantly argued and consistently thought-provoking * * Telegraph * *
Witty, informative and contemplative * * New York Times * *
Remarkable * * The Times * *
What Armstrong does in her skid over the millennia is make comparisons, connections and contrasts in a way that cannot fail to enlighten the general reader . . . Myths are narratives: as she eloquently says, we shouldn't be done with them yet -- NICHOLAS LEZARD * * Guardian * *
Valiant and readable . . . clearly and concisely written * * Independent * *
With characteristic incisiveness, Armstrong explores the development of myth from prehistory to the present day * * Daily Mail * *
Brilliant . . . Succinct and thoughtfully elucidated * * Elle * *
Karen Armstrong is a genius -- AN WILSON
Karen Armstrong is one of our most perceptive and thoughtful writers on religion -- JOHN GRAY
One of the handful of wise and supremely intelligent commentators on religion -- ALAIN DE BOTTON
ISBN: 9781782118909
Dimensions: 198mm x 129mm x 11mm
Weight: 123g
176 pages
Main - Canons