Debbie Shore's Sewing Room Secrets: Essential Skills for Dressmakers
Top Tips and Techniques for Successful Sewing
Format:Paperback
Publisher:Search Press Ltd
Published:21st Feb '21
£9.99
Available for immediate dispatch.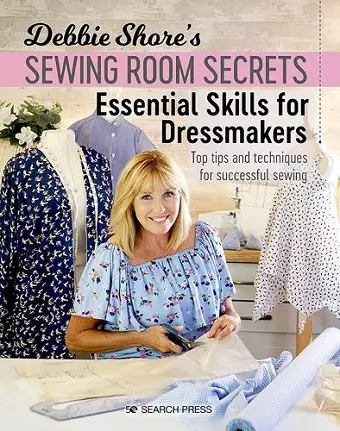 The only intro dress making book you'll ever need!
Packed with key skills and friendly know-how, this essential guide is ideal for anyone taking their first steps into dressmaking.
Packed with key skills and friendly know-how, this essential guide is ideal for anyone taking their first steps into dressmaking.
The latest title in Debbie Shore's Sewing Room Secrets series, this essential guide is packed with key skills and friendly know-how and is ideal for anyone taking their first steps into dressmaking. It covers the important basics such as: how to read and adjust a pattern; how to choose, mark and cut fabric; how to add zips, pockets and buttons; how to adapt old, misshapen or over-sized garments, and how to do some basic mending – all shown step-by-step.
This book is a toolkit designed to equip you with all the dressmaking skills you need; it contains ten inventive projects for you to try your hand at using your own pre-loved clothes, and gives you all the knowledge you need to make your own clothes from scratch using the pattern of your choice.
I just adore Debbie Shore books. They are informative and give practical as well as technical advice.
Perfect for the beginner but also ideal for the advanced sewist, Debbie Shore holds your hand and enables you to make a wearable and beautiful garment. This book is a brilliant addition to the collection, and if like me you collect them all, you will also know that they are the books that you frequently go to for your ideas and inspiration.
Her tips are brilliant and the visuals are truly a help. There is no jargon with the instructions so you will know exactly what to do and what you need.
-- Tracy Shephard * Amazon *
If you're looking to develop your sewing and dressmaking skills, Debbie Shore's latest release is a perfect place to start. Her Sewing Room Secrets: Essential Skills for Dressmakers not only feature 10 projects to try your hand at, she also gives you tricks for altering and upcycling garments you already have in your closet.
* Crafts Beautiful *
Before opening this book, I expected it was going to be a beginner's guide to working with commercial patterns. This is very useful, but there are quite a few of these already on the market, so what's new with this one? A better description is that this is a beginner's guide to making garments for the 21st century dressmaker. Not only does it give helpful tips for working with patterns, it also tells you how to upcycle clothes you already own or have bought from charity shops and how to make repairs. You don't even have to buy your fabric from fabric stores.
I was instantly hooked by all this. Starting from scratch is great, but what about all the resources already in existence? Looking after our planet should come first whatever we are doing, and this is very much a book for the modern, responsible crafter. The book starts by having a look at what tools and supplies you need to purchase before embarking on your new hobby. What machine feet and needles you require, sewing box basics and choosing a machine. Learn about fabrics and different types of interfacing as well as how to choose garments in charity shops for repurposing. Measure yourself, decode pattern terminology and learn the basic skills such as cutting out, pattern positioning, what symbols mean and fabric preparation. The rest of the book contains several projects that teach you more skills as you make them from putting in elastic to pockets, closures, and appliqué. Draft your own basic pattern for a loose-fitting kimono jacket, attach a skirt to a jumper and make a sweater dress, make a skirt from a man's shirt, and use a length of cloth for a simple wrap skirt. Mend your own jeans and make a poorly fitting blouse fit by adding some darts. This is dressmaking with the lid blown off, freed from rules and too much reliance on brand new resources. I'm not a beginner but I have a lot to learn from this book. This book is highly recommended for anybody who wants to learn dressmaking the modern way.
-- Rachel A Hyde * myshelf.c
ISBN: 9781782217473
Dimensions: 260mm x 204mm x 7mm
Weight: 362g
96 pages