Entangled Life
How Fungi Make Our Worlds, Change Our Minds and Shape Our Futures
Format:Paperback
Publisher:Vintage Publishing
Published:2nd Sep '21
£12.99
Available for immediate dispatch.
This paperback is available in other editions too: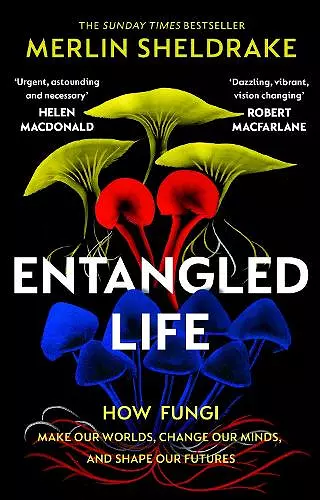 The smash-hit Sunday Times bestseller that will transform your understanding of our planet and life itself.

'Dazzling, vibrant, vision-changing' Robert Macfarlane

Winner of the Wainwright Prize for Conservation Writing 2021

The more we learn about fungi, the less makes sense without them.
'Dazzling, vibrant, vision-changing' Robert Macfarlane

The more we learn about fungi, the less makes sense without them.

They can change our minds, heal our bodies and even help us avoid environmental disaster; they are metabolic masters, earth-makers and key players in most of nature's processes. In Entangled Life, Merlin Sheldrake takes us on a mind-altering journey into their spectacular world, and reveals how these extraordinary organisms transform our understanding of our planet and life itself.

Winner of the Royal Society Science Book Prize 2021
Winner of the Wainwright Prize for Conservation Writing 2021

'Reads like an adventure story... Wondrous' Sunday Times

'Urgent, astounding and necessary' Helen Macdonald

Perfect for fans of Peter Godfrey-Smith's Other Minds and The Hidden Life of Trees by Peter Wohlleben
Astonishing... It seems somehow to tip the natural world upside down * Observer *
Riveting and surprising at every turn... A sensory as well as an intellectual pleasure * New Statesman *
A true masterpiece, a thrilling and fascinating insight into the living world... I hope and trust that it will become an instant classic -- GEORGE MONBIOT
A revelation... Changes the way we need to look at life, the planet and ourselves -- ISABELLA TREE, author of Wilding
Blew my mind... Essential reading. Go and get swept up in a new world -- ANDREA WULF, author of The Invention of Nature
Wondrous... Humans should consider fungi among the greatest of earth's marvels * Time, Books of the Year *
Truly astounding... An engrossing, captivating journey... Perspective-altering * Spectator *
Astonishing ... it's impossible to finish this book without feeling awestruck -- ANDREW MOTION, TLS Books of the Year
ISBN: 9781784708276
Dimensions: 198mm x 129mm x 27mm
Weight: 340g
368 pages