OVEREMOTIONAL
your new queer YA obsession!
Format:Paperback
Publisher:Bonnier Books Ltd
Published:6th Jul '23
£8.99
Available for immediate dispatch.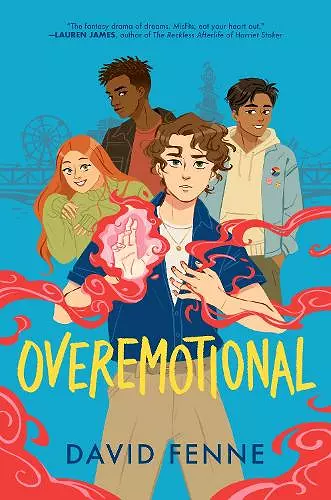 Whatever emotion Steven Percival experiences manifests as magical powers, with consequences ranging from the disastrous to the hilarious. When a mysterious secret agency starts hunting him down, Steven and his friends must fight back - and get him a boyfriend, of course.
" - Lauren James, author of The Quiet at the End of the World

(OVEREMOTIONAL by David Fenne was a Sunday Times Children's Book of the Week on 16/07/23)
A Sunday Times Children's Book of the Week.

"An epically exciting, utterly unique debut. Not to be missed." - William Hussey, author of Broken Hearts & Zombie Parts

Sometimes, emotions can be a little too powerful...

Seventeen-year-old Steven has a big problem... Whenever he feels intense emotions, weird things happen. Like when he kissed a boy for the first time, and the boy's head literally exploded.

Fleeing to the miserable town of Grunsby-on-Sea, Steven is determined to not hurt anyone else - but he doesn't count on his best friend Freya, her boyfriend Marcus and American friend Troy following him. And when agents from the mysterious DEMA organisation show up talking about "neutralisation", Steven realises that Grunsby-on-Sea might not be the safe haven he'd hoped for...

The first in a wholesome queer YA fantasy trilogy packed with magic, loveable characters and big plot twists from debut author DAVID FENNE. Perfect for fans of TJ Klune, Rainbow Rowell and Adam Silvera.

"The fantasy drama of dreams. " - Lauren James, author of The Quiet at the End of the World

(OVEREMOTIONAL by David Fenne was a Sunday Times Children's Book of the Week on 16/07/23)
An epically exciting, utterly unique debut. Not to be missed. * William Hussey, author of Broken Hearts & Zombie Parts *
The fantasy drama of dreams. * Lauren James, author of The Quiet at the End of the World *
A wonderful, queer action novel. * Alexis Caught, author of Queer Up: An Uplifting Guide to LGBTQ+ Love, Life and Mental Health *
"Zany and heartwarming" * The Irish Times *
ISBN: 9781785304729
Dimensions: 198mm x 129mm x 20mm
Weight: 258g
352 pages