Some Assembly Required
Decoding Four Billion Years of Life, from Ancient Fossils to DNA
Format:Paperback
Publisher:Oneworld Publications
Published:15th Apr '21
£11.99
Available for immediate dispatch.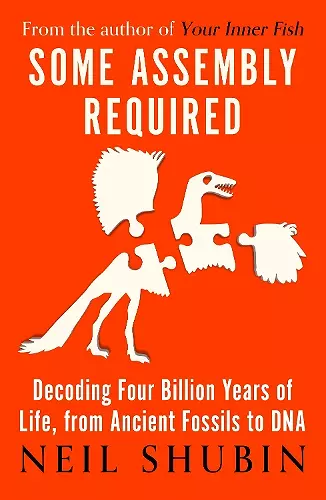 Nothing begins when you thought it did…
'Intimate and thoughtful… Exciting… [A] sweeping evolutionary history.' Science
The author of the bestselling Your Inner Fish gives us a brilliant, up-to-date account of the great transformations in the history of life on Earth.
This is a story full of surprises. If you think that feathers arose to help animals fly, or lungs to help them walk on land, you'd be in good company. You'd also be entirely wrong.
Neil Shubin delves deep into the mystery of life, the ongoing revolutions in our understanding of how we got here, and brings us closer to answering one of the great questions – was life on earth inevitable…or was it all an accident?
'Neil Shubin's book is one that completely changed my understanding of evolution… The things I learned from this book stayed with me – I'm still dropping facts into conversation.'
* BBC Science Focus, BOOK OF THE YEAR *
'Neil Shubin shows himself to be a natural storyteller and a gifted scientific communicator.'
* Wall Street Journal *
'A rollicking ride…light of touch, anecdote-rich and funny, and yet…still feels satisfyingly informative... What's not to love?'
-- Dr Tori Herridge, BBC Wildlife
'Neil Shubin provides an up-to-date and utterly engrossing account of the latest thinking on the great transformations in evolution… Frequently funny and always eloquent, Shubin's power as a science communicator is to make you fall in love with evolutionary biology all over again.'
-- Leon Vlieger * The Inquisitive Biologist *
'Neil Shubin is one of the most accomplished writers on evolution and the history of life, and this book is a worthy successor to its predecessors.' 
-- Richard Fortey, author of Life, The Earth and Fossils
'Another winner from Dr. Shubin, who skillfully and thoughtfully steers us through the incredibly fascinating world of DNA and fossils.  Dr. Shubin's clear and engaging writing rewards us with a deeper understanding of how all life on our planet is interconnected.  Steeped in the paradigm of evolutionary theory, he inspires us to think more deeply about our connectedness with the natural world.  Charles Darwin would applaud Dr. Shubin's clear explanations and insightful rendering of the incontrovertible evidence for the evolution of all life on planet Earth.'
-- Donald Johanson, paleoanthropologist and discoverer of LUCY
'A welcome new exploration of the evolution of human and animal life on Earth… Shubin explores it with his characteristic enthusiasm and clarity… A fascinating wild ride through the mechanics of evolution.'
-- Kirkus (starred review)
'Neil Shubin has been one of my favourite science communicators ever since I took his undergraduate anatomy course. In this ambitious and readable book, Shubin blends his own research, epic tales from the history of science, and the latest discoveries in palaeontology and genetics to tackle some of the biggest mysteries of evolution. This is an engrossing account from a scientific storyteller at the height of his talents.' 
-- Steve Brusatte, University of Edinburgh palaeontologist and author of The Rise and Fall of the Dinosaurs
'Shubin's … exhilarating excursion into the ways of evolution… Shubin isn't the most prolific popular-science writer, but he is one of the best.' 
-- Booklist (starred review)
'Enjoyable…  Eloquent… This superb primer brings the intellectual excitement of the scientific endeavor to life in a way that both educates and entertains.'
* Publishers Weekly (starred review) *
'Through tales of remarkable creatures, and some even more remarkable people who study them, Neil Shubin unravels the mystery at the heart of evolution — how nature invents.
From bacteria to brains, fish lungs to ballistic salamander tongues, Shubin decodes the surprising origins of the marvelous gadgets that have driven the riot of life's diversity.'
-- Sean B. Carroll, author of The Serengeti Rules and Brave Ge
ISBN: 9781786079428
Dimensions: 198mm x 129mm x 21mm
Weight: unknown
288 pages