The Cafe de Move-on Blues
In Search of the New South Africa
Format: Paperback
Publisher: Atlantic Books
Published: 2nd May '19
This title is currently unavailable, but we can notify you if and when it becomes available again.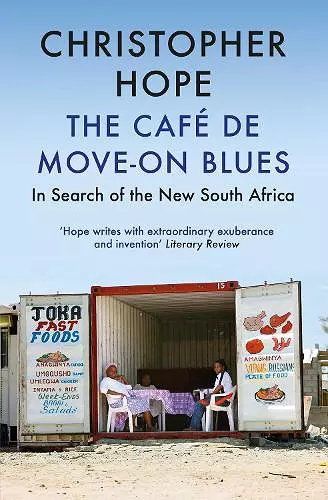 From one of South Africa's finest writers comes a powerful exploration of politics, race and population in the post-Apartheid era.
Longlisted for the RSL Ondaatje Prize,2019

In White Boy Running, Christopher Hope explored how it felt and looked to grow up in a country gripped by an 'absurd, racist insanity'. On a road trip thirty years later, Hope goes in search of today's South Africa; post the evils of apartheid, but also post the dashed hopes and dreams of Mandela, of a future when race and colour would not count. He finds a country still in the grip of a ruling party intent only on caring for itself, to the exclusion of all others; a country where racial divides are deeper than ever. As the old imperial idols of Cecil Rhodes and Paul Kruger are literally pulled from their pedestals in a mass yearning to destroy the past, Hope ponders the question: what next? Framed as a travelogue, this is a darkly comic, powerful and moving portrait of South Africa - an elegy to a living nation, which is still mad and absurd.
Hope writes with extraordinary exuberance and invention. * Literary Review *
Marvellously chilling * The Times on 'White Boy Running' *
Breathtaking to the very end * Guardian on 'My Mother's Lovers' *
A brilliant, compelling novel about innocence and betrayal * The Times for 'My Mother's Lovers' *
Long-listed for RSL Ondaatje Prize 2019 (UK)
ISBN: 9781786490612
Dimensions: 200mm x 130mm x 30mm
Weight: 315g
336 pages
Main