Disrupted
Ludicrous Misadventures in the Tech Start-up Bubble
Format:Paperback
Publisher:Atlantic Books
Published:6th Apr '17
£10.99
Available to order, but very limited on stock - if we have issues obtaining a copy, we will let you know.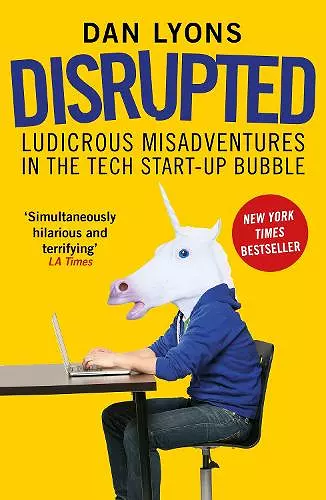 The definitive and hilarious New York Times bestselling exposé of a new age of excess in Silicon Valley
Dan Lyons was Technology Editor at Newsweek Magazine for years, a magazine writer at the top of his profession. One Friday morning he received a phone call: his job no longer existed. Fifty years old and with a wife and two young kids, Dan was unemployed and facing financial oblivion. Then an idea hit. Dan had long reported on Silicon Valley and the tech explosion. Why not join it? HubSpot, a Boston start-up, was flush with $100 million in venture capital. They offered Dan a pile of stock options for the nebulous role of "marketing fellow." What could possibly go wrong?

What follows is a hilarious and excoriating account of Dan's time at the start-up and a revealing window onto the dysfunctional culture that prevails in a world flush with cash and devoid of experience. Filled with stories of meaningless jargon, teddy bears at meetings, push-up competitions and all-night parties, this uproarious tale is also a trenchant analysis of the dysfunctional start-up world, a de facto conspiracy between those who start companies and those who fund them. It is a world where bad ideas are rewarded with hefty investments, where companies blow money lavishing perks on their post-collegiate workforces, and where everybody is trying to hang on just long enough to cash out with a fortune.
Lyons finds the right company, if only for the raw material that he, a seasoned satirist, spins into gold... But the book is not just a chronicle of the tech bubble's silly quirks... Lyons uses the lens of his growing disillusionment to focus on a broader critique of Silicon Valley. * Financial Times *
'Simultaneously hilarious and terrifying' * LA Times *

Wildly entertaining... Disrupted explores the ways in which many technology companies have come to fool the public and themselves. Lyons has injected a dose of sanity into a world gone mad.
-- Ashlee Vance, Sunday Times bestselling author of Elon Musk
'Laugh-out-loud funny.' * Newsweek *
Fun, compulsively readable and just might tell us something important about the hypocrisy and cult-like fervor inside today's technology giants. -- Brad Stone, Author of The Everything Store: Jeff Bezos and the Age of Amazon
Scathingly funny . . . Like the show Silicon Valley, Disrupted nails the workings of spastic, hypocritical, delusional tech culture. * New York Post *
'A hugely entertaining insider view of the vainglorious world of tech, yet it is also an important rumination on the values of our age.' * Irish Times *
'This humorous and well-crafted memoir is part of a proud literary tradition: the disgruntled ex-employee tell-all.' * Harvard Business Review *
Dan Lyons goes deep inside a company that uses terms like 'world class marketing thought leaders' to show us how ridiculous, wasteful, and infantile tech start-ups like this can be. And best of all, Lyons does this with his trademark pejorative and hilarious tone. -- Author of Hatching Twitter
ISBN: 9781786491022
Dimensions: 198mm x 129mm x 20mm
Weight: 237g
272 pages
Main