From Fatwa to Jihad
How the World Changed: The Satanic Verses to Charlie Hebdo
Format:Paperback
Publisher:Atlantic Books
Published:2nd Feb '17
£12.99
Available for immediate dispatch.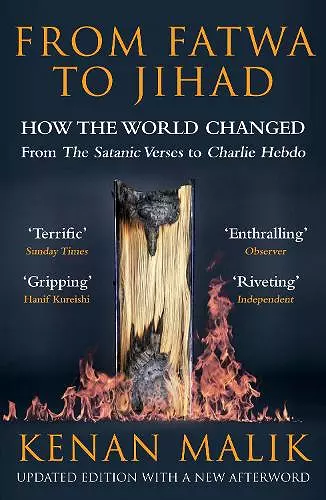 The Number 1 international bestseller updated and reissued.
Almost thirty years ago, the image of burning copies of Salman Rushdie's The Satanic Verses held aloft by thousand-strong mobs of protesters became an internationally familiar symbol of anger and offence. In From Fatwa to Jihad, Kenan Malik reveals how the Rushdie affair transformed the debate worldwide on multiculturalism, tolerance and free speech, helped fuel the rise of radical Islam and pointed the way to the horrors of 9/11 and 7/7.

In this new edition, Malik examines the rise of home-grown jihadis, the threat of IS-inspired terrorism in Europe and how the West has failed to learn the lessons of the past.
A gripping account of how we went from burning books to bombs on buses. The Rushdie Affair has shaped all our lives. This book shows us how. -- Hanif Kureishi
A thorough and highly readable history of the politics of the Rushdie affair and an important intervention in the current debate on freedom of expression. -- Monica Ali
A riveting political history of contemporary Britain... Impeccably researched, brimming with detail, yet razor-sharp in its argument. -- Lisa Appignanesi * Independent *
Few writers have untangled the paradoxes and unintended consequences of political Islam as deftly as Malik -- Maureen Freely * Washington Post *
Enthralling -- Robert McCrum * Observer *
An admirable piece of reportage... subtle and intelligent -- Stuart Kelly * Scotsman *
Seldom can a book have had a more searing relevance to contemporary events -- Lindsay Johns * New Humanist *
Long-listed for ORWELL PRIZE 2010 (UK)
ISBN: 9781786491046
Dimensions: 200mm x 132mm x 28mm
Weight: 335g
352 pages
Main