Infinite Powers
The Story of Calculus - The Language of the Universe
Format:Paperback
Publisher:Atlantic Books
Published:6th Feb '20
£10.99
Available for immediate dispatch.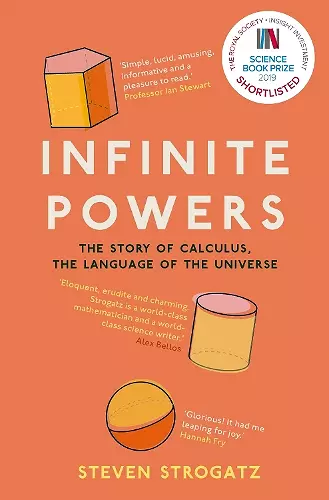 Shortlisted for the Royal Society Science Book Prize 2019

A magisterial history of calculus (and the people behind it) from one of the world's foremost mathematicians.

This is the captivating story of mathematics' greatest ever idea: calculus. Without it, there would be no computers, no microwave ovens, no GPS, and no space travel. But before it gave modern man almost infinite powers, calculus was behind centuries of controversy, competition, and even death.

Taking us on a thrilling journey through three millennia, professor Steven Strogatz charts the development of this seminal achievement from the days of Archimedes to today's breakthroughs in chaos theory and artificial intelligence. Filled with idiosyncratic characters from Pythagoras to Fourier, Infinite Powers is a compelling human drama that reveals the legacy of calculus on nearly every aspect of modern civilisation, including science, politics, medicine, philosophy, and much besides.
Warning: this book is dangerous. It will make you love mathematics. Even more, there is a nonzero risk it will turn you into a mathematician. * Nassim Nicholas Taleb, bestselling author of The Black Swan *
Fascinating reading. * Scientific American *
Eloquent, erudite and charming. A remarkable story. Strogatz is a world class mathematician and a world class science writer. With a light touch and razor-sharp clarity, he tells the remarkable story of a mathematical breakthrough that changed the world - and continues to do so. * Alex Bellos, bestselling author of Alex's Adventures in Numberland *
Glorious! A master class in accessible maths writing and a perfect read for anyone who feels like they never quite understood what all the fuss was about. It had me leaping for joy. * Hannah Fry, bestselling author of Hello World and presenter of BBC R4's The Curious Cases of Rutherford and Fry *
Simple, lucid, amusing, informative, and a pleasure to read. If you want to know where calculus came from, how it works, what it's good for, and where it's going next, this is the book for you. * Professor Ian Stewart, author of Significant Figures *
A fine, thoughtful attempt to make the greatest stories relating to calculus accessible... After reading Infinite Powers, we should no longer fear calculus. * Literary Review *
The most fascinating book I have ever read. If you have even the slightest curiosity about maths and its role in this world, I implore you to read this amazing book. * Jo Boaler, professor of mathematics education, Stanford University *
A wide-ranging, humane, thoroughly readable take on one of the greatest ideas our species has ever produced. * Jordan Ellenberg, author of How Not to Be Wrong *
Fascinating anecdotes abound in Infinite Powers... [Strogatz] has written a romp through the history of calculus. * Nature *
A tour de force. Elegant and ebullient. Strogatz speaks to everyone, reminding us why mathematics matters in a practical sense while all the time highlighting its beauty. * Lisa Randall, Professor of Physics at Harvard University and author of Dark Matter and The Dinosaurs *
A highly readable account of calculus and its modern applications - all done with the human touch. * Dr David Acheson, Emeritus Fellow, Oxford University and author of The Calculus Story *
An incalculable pleasure. If calculus is the language of the universe, then Steven Strogatz is its Homer. * Daniel Gilbert, author of Stumbling on Happiness *
In this engaging book, Steven Strogatz illuminates the importance of calculus and explains its mysteries as only he can. * Sean Carroll, author of The Particle at the End of the Universe *
ISBN: 9781786492975
Dimensions: 198mm x 129mm x 27mm
Weight: 330g
384 pages
Main