Beginners
The Joy and Transformative Power of Lifelong Learning
Format:Hardback
Publisher:Atlantic Books
Published:7th Jan '21
£16.99
Available to order, but very limited on stock - if we have issues obtaining a copy, we will let you know.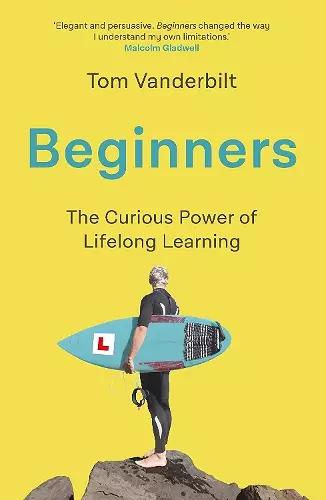 Discover why learning is good for us and how to develop a 'Beginner's Mindset'
'Beginners belongs on the list of books that have changed the way I understand my own limitations.'
Malcolm Gladwell

For many of us, the last time we learned a new skill was during childhood. We live in an age which reveres expertise but looks down on the beginner. Upon entering adulthood and middle age, we begin to shy away from trying new things, instead preferring to stay nestled firmly in our comfort zones.

Beginners asks the question: why are children the only ones allowed to experience the inherent fun of facing daily challenges? And could we benefit from embracing new skills, even if we're initially hopeless? Bestselling author Tom Vanderbilt sets out to find the answer, tasking himself with acquiring several new skills under the tutelage of professionals, including drawing, juggling, surfing and much more. Witty and often surprisingly profound, Beginners is an uplifting exploration of the science of brain plasticity and how we can learn how to learn anew.
Tom Vanderbilt elegantly and persuasively tackles one of the most pernicious of the lies we tells ourselves -- that the pleasures of learning are reserved for the young. Beginners belongs on the list of books that have changed the way I understand my own limitations. * Malcolm Gladwell *
Wonderful... [Vanderbilt] explores how to learn completely new skills, how to change our world -- even after we're supposed to be done with schooling. This is a book about how to become a beginner again, and it makes you want to plunge in with both feet. * Charles Duhigg, bestselling author of The Power of Habit *
A pleasure to read. * Guardian *
A wonderful and inspirational book. The only thing that will make you put it down is a burning desire to try something new. It's full of the sort of encouragement and wisdom that bridges the small, tricky gulf between enthusiasm and action. A book that will launch thousands of journeys that might not otherwise have happened and prove life-changing for many who take those first steps. * Tristan Gooley, bestselling author of The Walker's Guide to Outdoor Clues and Signs *
Vanderbilt sets out on a fascinating challenge to learn new skills. Along the way he tackles chess, singing, surfing, drawing and juggling... Vanderbilt has a nice line in wit and much of what he writes is entertainingly profound. * Irish Times *
Witty, well-researched, myth-busting and curiously of the moment. Vanderbilt tells a compelling tale. Eighty pages in, I joined a choir. * Robert Penn, author of It's All About the Bike: The Pursuit of Happiness on Two Wheels *
A thoughtful and stirring look into the art and science of lifelong learning. Currently, I'm learning Gaelic, dressmaking and how to lay floors. Last year, it was knitting and coding. I'm 50, and not supposed to be a beginner any more -- according to society's conventions -- but Tom Vanderbilt turns that flawed assumption on its head with the grace with which he learns to reach a high note or surf a wave. * Rose George, author of Nine Pints *
A great book about the power of being a beginner. * Gretchen Rubin *
It's impossible to pick up a book by Tom Vanderbilt without learning something. An engaging and fascinating mix of the personal and the general. I never thought I'd read a book that could tempt me to take up juggling, but this one did. * Robert Colvile, Sunday Times columnist *
You don't have to try all the activities that Tom Vanderbilt took on in his heroic, self-sacrificial effort to persuade us of the benefits of learning throughout life. After you read this invigorating book, you might want to take a nap. But then you'll get up, refreshed, ready to learn a new skill. You'll be ready to begin. * Carol Tavris, co-author of Mistakes Were Made (But Not By Me) *
Engagingly written, meticulously researched, endlessly interesting and informative * Washington Post on Traffic *
Smart and comprehensive... Vanderbilt's book is likely to remain relevant well into the new century. * The New Republic on Traffic *
ISBN: 9781786493095
Dimensions: 233mm x 160mm x 33mm
Weight: 595g
320 pages
Main