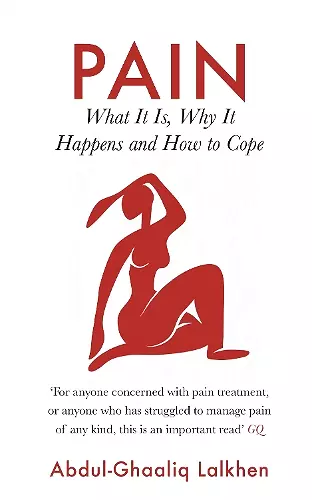 'Combines a career's worth of expertise with a long history of pain treatment.For anyone concerned with pain treatment, or anyone who has struggled to manage pain of any kind, it's an important read.' GQ


Pain is a universal human experience, but we understand very little about the mechanics behind it. We hurt ourselves, we feel pain, we seek help from a professional or learn to avoid certain behaviours that cause pain. But the story of what goes on in our body is far from simple. Even medical practitioners themselves often fail to grasp the complexities between our minds and bodies and how they interact when dealing with pain stimulus.

Common conception still equates pain with tissue damage but that is only a very small part of the story - the organ which produces pain is the brain. Case studies show that a woman who has undergone a caesarean reports dramatically less pain than a patient who has had a comparably invasive operation. The soldier who drags themselves to safety after being shot deals with pain in a remarkably different way from someone suffering a similar injury on a street. The truth is that pain is a complex mix of nerve endings, psychological state, social preconceptions and situational awareness.

Using case studies and medical history, Dr Lalkhen guides us through all aspects of pain, from chronic to acute, and the current landscape of pain treatments - from medication (including opioids) to electrical nerve stimulation. Whether it's a mild ache or severe discomfort, we all encounter pain in our lives and this important and illuminating book enables us to understand and cope with an experience that for so many can become all-consuming.
Combines a career's worth of expertise with a long history of pain treatment. For anyone concerned with pain treatment, or anyone who has struggled to manage pain of any kind, it's an important read. * GQ *
As timely as it is important. What makes the book so prescient is the fact that Lalkhen understands exactly what is at stake. A life free from pain is a blessing while a life plagued by pain is a curse. * Scientific Inquirer *
This splendid book - informative, empathic, and wise - about a universal experience will surely promote healing. * Booklist (Starred Review) *
Lalkhen's mission? To change our understanding of pain so that it can be better managed... Lalkhen's genius rests in explaining the synthesis of body, mind and spirit in its manifestation... A fusion of history, psychology and science, Pain is a call to increase not only our level of emotional literacy but also empathy, particularly in the medical profession. * The Australian *
Lalkhen knows a lot about pain and how sneaky it can be. A teacher and clinician, he describes the history of pain relief: how it allows surgery, what led to the opiate crisis, how pain affects people in different ways, and how pain can outlast tissue damage... This is a book to read if you are objectively curious about how pain works. * Listener *
Drawing on research and his own experiences as a physician, the author explains that pain is largely misunderstood by both the public and medical professionals... With insights both scientific and personal, Lalkhen's study sheds light on a mysterious corner of physiology and medicine. * Publishers Weekly *
[Lalkhen] illuminates his specialty... [and] takes up pain as experienced by patients and dealt with by doctors. Readers [will find] a sensitive doctor who writes well about an ongoing epidemic. * Kirkus Reviews *
Provides appropriately detailed and understandable information while also offering suggestions practitioners should consider. * Library Journal *
[Lalkhen] fulfills his mission [to 'explain pain in all its forms'] well, beginning with the anatomical mechanics of pain and a history of human relationships with pain, concluding with helpful prescriptions - including mindfulness - for changing our relationship to the way we suffer. * Mindful Magazine *
A rather deep, and interesting book that could well find a home on any doctor's bookshelf. * NB Magazine *
ISBN: 9781786497079
Dimensions: 200mm x 130mm x 20mm
Weight: 295g
320 pages
Main