Storm of Steel
Format:Paperback
Publisher:Bloomsbury Publishing PLC
Published:12th Nov '20
£8.99
Available to order, but very limited on stock - if we have issues obtaining a copy, we will let you know.
This paperback is available in another edition too: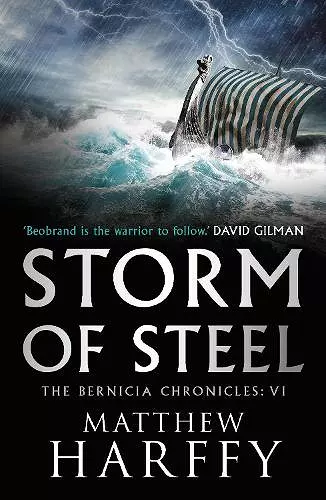 AD 643. Anglo-Saxon Britain. Heading south to lands he once considered his home, Beobrand is plunged into a dark world of piracy and slavery when an old friend enlists his help to recover a kidnapped girl.
AD 643. Anglo-Saxon Britain. A gripping, action-packed historical thriller and the sixth instalment in the Bernicia Chronicles. Heading south to lands he once considered his home, Beobrand is plunged into a dark world of piracy and slavery when an old friend enlists his help to recover a kidnapped girl. Embarking onto the wind-tossed seas, Beobrand pursues his quarry with single-minded tenacity. But the Whale Road is never calm and his journey is beset with storms, betrayal and violence. As the winds of his wyrd blow him ever further from what he knows, will Beobrand find victory on his quest or has his luck finally abandoned him? Praise for Matthew Harffy: 'Nothing less than superb... The tale is fast paced and violence lurks on every page'
Historical Novel Society
'Beobrand is the warrior to follow'
David Gilman
'A tale that rings like sword song in the reader's mind'
Giles Kristian
'Historical fiction doesn't get much better than this'
Angus Donald
'A brilliant characterization of a difficult hero in a dangerous time. Excellent!'
Christian Cameron
'A terrific novel. It illuminates the Dark Ages like a bolt of lightning'
Toby Clements
'Battles, treachery, revenge and a healthy dose of Dark Age adventure'
Simon Turney
'Matthew Harffy tells a great story'
Joanna Hickson
'Harffy's writing just gets better and better... He is really proving himself the rightful heir to Gemmell's crown'
Jemahl Evans
'Harffy has a real winner on his hands... A genuinely superb novel'
Steven McKay
'A breathtaking novel that sweeps the reader into a dark and dangerous world'
Paul Fraser Collard
PRAISE FOR THE BERNICIA CHRONICLES: 'Matthew Harffy's tale of England in the Dark Ages is nothing less than superb... The tale is fast paced and violence lurks on every page' Historical Novel Society. 'A tale that rings like sword song in the reader's mind. Harffy knows his genre inside out and The Cross and the Curse proves it' Giles Kristian. 'Murder, betrayal and vengeance fuel tribal warfare and personal combat. Beobrand is the warrior to follow' David Gilman. 'Historical fiction doesn't get much better than this' Angus Donald, author of The Outlaw Chronicles. 'Battles, treachery, revenge and a healthy dose of Dark Age adventure' -- Simon Turney
ISBN: 9781786696335
Dimensions: unknown
Weight: unknown
464 pages