Book of Mercy
Format:Paperback
Publisher:Canongate Books
Published:3rd Oct '19
£9.99
Available for immediate dispatch.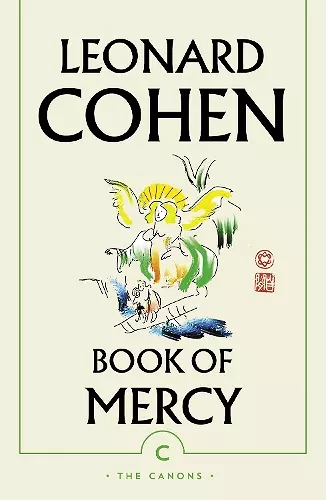 One of Leonard Cohen's best loved volumes of poetry; a personal and powerful collection, popular since its original publication over thirty years ago
The poems in Book of Mercy brim with praise, despair, anger, doubt and trust. Speaking from the heart of the modern world, yet in tones that resonate with an older devotional tradition, these verses give voice to our deepest, most powerful intuitions.

Internationally celebrated for his writing and his music, Leonard Cohen is revered as one of the greatest writers, performers, and most consistently daring artists of the last hundred years.
PRAISE FOR LEONARD COHEN: As strong a poet as he is a musician * * Guardian * *
Leonard Cohen was the poet laureate of the lack, the psalmist of the privation, who made imperfection gorgeous * * New York Times * *
He is a writer of terrific energy and colour, a Rabelaisian comic and a visualiser * * Observer * *
Utterly unique and impossible to imitate no matter how hard we tried -- NICK CAVE
Awe-inspiring . . . Cohen emerges as the wry, sensual mystic his champions have always known he was * * Sunday Telegraph * *
There is something irresistible about Cohen's charm * * New Yorker * *
There are very, very few people who occupy the ground that Leonard Cohen walks on -- BONO
The best bring an ironic, world-weary sensibility to bear on themes of ageing, sex, sensuality and spirituality * * Financial Times * *
Exceptional. Clear yet steamy, cosmic yet private, both playful and profound. . . as soulful a credo as he has ever put on paper * * New York Times * *
Playful, colourful, erotic . . . brilliant and sharp as flint * * The Big Issue * *
ISBN: 9781786896865
Dimensions: 198mm x 129mm x 6mm
Weight: 72g
96 pages
Main - Canons