Bi
The Hidden Culture, History and Science of Bisexuality
Format:Hardback
Publisher:Canongate Books
Published:2nd Jun '22
£16.99
Available for immediate dispatch.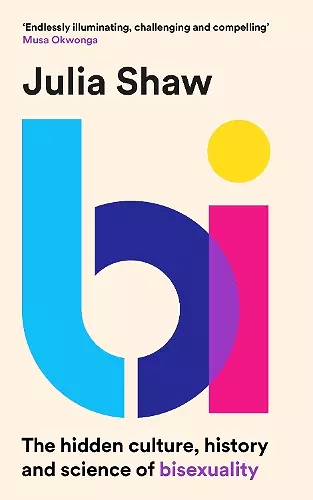 A provocative and eye-opening book on thescience and history of bisexuality, from the internationally bestselling author and co-host of BBC podcast Bad People
A WATERSTONES BEST BOOK OF 2022: POLITICS

Significant strides have been made in recent years in the movement for LGBTQ+ rights, visibility and empowerment, but the conversation is far from over. After years of feeling the crushing dearth of information on bisexuality, psychological scientist and bestselling author Dr Julia Shaw dug deep and found a colourful and fascinating world that she is bringing out of the shadows. It is a personal journey that starts with her own openly bisexual identity, and celebrates the resilience and beautiful diversity of the bi community.

In Bi: The Hidden Culture, History and Science of Bisexuality, Shaw explores all that we know about the world's largest sexual minority. From the hunt for a bi gene, to the relationship between bisexuality and consensual non-monogamy, to asylum seekers who need to prove their bisexuality in a court of law, there is more to explore than most have ever realised. This rigorous and fun book will challenge us to think deeper about who we are and how we love.
Well-researched, cogent and compelling . . . Shaw is always an engaging guide to the landscape, on everything from the hunt for a bi gene to the sexual habits of giraffes and rams. [She] has achieved what she set out to do: delivered a book that does justice to the important history of bisexuality, bringing the colourful world of bisexual scholarship "out of the shadows" * * Independent * *
A tour of the science, culture and history of bisexuality that ranges from the vehemently political to the charmingly weird. Shaw celebrates bisexual bonobos, debunks myths about gay giraffes and contends that "starfish should be the mascots for queerness" . . . The book opens up conversations that might just lead to more visibility, understanding and empathy for all people, however they define themselves. If those conversations could become the latest big thing, we'd all benefit * * Guardian * *
A lively rollercoaster ride through all things bisexual. Full of fascinating facts, up-to-date stats, pop culture references and thoughtful analysis, the book covers everything from bi animals to political scandals, from exclusions in queer spaces to threesomes. Julia writes eloquently and engagingly, sharing moments from her own journey along the way. A must-have for every queer bookcase -- MEG-JOHN BARKER * * author of Queer: A Graphic History * *
It's fabulous, brilliantly done, and so important. Julia Shaw has written the Bi bible. The hidden history and public face of millions of people. Fun, moving and skilful all at once -- PROFESSOR ANDREW REYNOLDS, founder of Queer Politics at Princeton University
Endlessly illuminating, challenging and compelling. Bi is a vivid and vital read -- MUSA OKWONGA, author and co-host of the Stadio Podcast
Julia Shaw's book is an incredible resource for anyone wishing to learn more about bisexuality. Whether you're a beginner or expert, this book is certain to teach you something new. Shaw takes her readers on a tour through bisexual history, studies, and data in diverse fields and areas, all presented in an informative and accessible style. This is a fascinating read -- SHIRI EISNER, author of Bi: Notes for a Bisexual Revolution
Bisexual erasure - the tendency for the identities and existence of bi people to be overlooked or misunderstood in popular culture and academic discourse - remains an issue, despite the strides made in the acceptance of LGBTQ people in recent decades. This lively book aims to put that right, exploring the changing ways in which bisexuality has been understood, and figures who deserve to be better known * * BBC History Magazine * *
[Julia Shaw] is a researcher with bottomless knowledge and context . . . An excellent new book for understanding modern and historical bisexuality. I learned so much from it * * BuzzFeed * *
Praise for Making Evil: Julia Shaw has crafted a brilliant panorama that elucidates humanity's dark side in her masterpiece, Making Evil -- PHILIP ZIMBARDO, author of The Lucifer Effect
Warmly, chattily written . . . Shaw draws knowledgeably on psychological and neuroscientific research * * Guardian * *
ISBN: 9781786898760
Dimensions: 220mm x 144mm x 27mm
Weight: 388g
272 pages
Main