The Story of My Boyhood and Youth
Format:Paperback
Publisher:Canongate Books
Published:3rd Aug '23
£10.99
Available for immediate dispatch.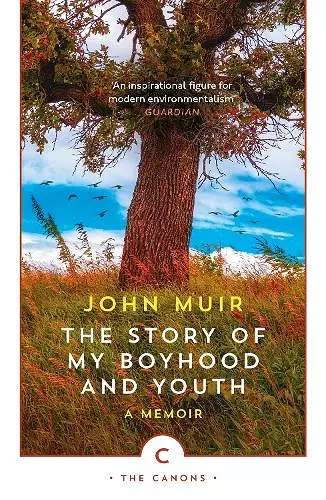 A memoir of childhood and a celebration of the natural world, from one of the founding fathers of modern conservation
'When I was a child in Scotland, I was fond of everything that was wild, and all my life I've been growing fonder and fonder of wild places and wild creatures.'

John Muir was eleven when he and his family left Scotland in 1849 to build a new life on a homestead in the vast wilderness of Wisconsin. Written in simple yet beautiful prose, we see Muir's delight as he discovers and observes the landscape and wildlife around him, as he recalls his childhood and reveals himself as a master of natural description.
His books are illuminated by sunshine and starlight . . . No other writer is so ceaselessly astonished by the natural world as Muir, or communicates that astonishment more urgently -- ROBERT MACFARLANE
An inspirational figure for modern environmentalism . . . his enthusiasm and heart-felt love of nature is immensely impressive * * Guardian * *
Muir was a geologist, an explorer, philosopher, artist, author, and editor, and to each of his avocations he devoted that deep insight and conscientious devotion which made him its master * * New York Times * *
The great mountain man . . . [John Muir] remains a towering presence in American cultural life, and is internationally acknowledged as one of the founding fathers of modern conservation -- MARK COCKER, author of OUR PLACE
A superbly told, moving and challenging story. For anybody remotely interested in the environment, Scottish culture, American history, the art of biography or the art of life, this book is essential * * Scotland on Sunday * *
The richness of Muir's writing roots deeper into the terrain than any other wilderness writer known to me * * Los Angeles Times on MY FIRST SUMMER IN THE SIERRA * *
ISBN: 9781786899248
Dimensions: 198mm x 129mm x 9mm
Weight: 113g
160 pages