Elixir
In the Valley at the End of Time
Format:Hardback
Publisher:Vintage Publishing
Published:2nd Feb '23
£22.00
Available for immediate dispatch.
This hardback is available in another edition too: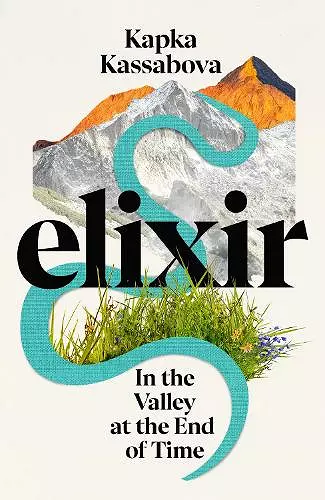 Set in the valley of the Mesta, one of the oldest inhabited river valleys in Europe and a nexus for wild plant gatherers, Elixir is an unforgettable exploration of the deep connections between people, plants and place

'Uplifting and beautifully written' SPECTATOR
'Dark and mysterious and beautiful' FINANCIAL TIMES
'Exceptional' BBC WILDLIFE

Over several seasons, Kassabova spends time with the people of this magical region. She meets women and men who work in a long lineage of foragers, healers and mystics. She learns about wild plants and the ancient practice of herbalism, and experiences a symbiotic system where nature and culture have blended for thousands of years. Through her captivating encounters we come to feel the devastating weight of the ecological and cultural disinheritance that the people of this valley have suffered. Yet, in her search for elixir, she also finds reasons for hope. The people of the valley are keepers of a rare knowledge, not only of mountain plants and their properties, but also of how to transform collective suffering into healing.

Immersive and enthralling, at its heart Elixir is a search for a cure to what ails us in the Anthropocene. It is an urgent call to rethink how we live - in relation to one another, to the Earth and to the cosmos.
The mark of a good book is that it changes you ... I've rarely been so aware of an internal change being wrought, word by word, as I have these past days immersed in Kapka Kassabova's alchemical prose... she had me under her spell from page one. * Guardian, *Book of Day* *
Her ability to bring out the best in her subjects is born of a genuine horror at the unsustainability of the ways we live and the toll they are taking on places such as the Mesta valley. But Elixir is not a lecture ... Like the forests and fells it inhabits, it is by turns dark and mysterious and beautiful. Ecologically minded writing can often tell too much and show too little, but Kassabova sensibly lets the landscape and locals do the talking. * Financial Times *
Uplifting and beautifully written... Kassabova's book...provide[s] a glorious cycle of stories and personal testimonies. * Spectator *
Subtle prose that mingles empathy with perspective. * Economist *
A laudable attempt to record an endangered region and a disappearing way of life. * Times Literary Supplement *
Exceptional. * BBC Wildlife *
Humanity glitters under her gaze in all its facets. Her prose is spectacularly good and her storytelling is a joy. -- Philip Marsden
This is a book to make you feel. * Scotsman *
Extraordinary... She allows her book to grow and swell, like a symphony, expanding and deepening its themes until the traditional wisdom and life of the mountain envelopes you entirely. Rather like a spell, in fact. * Country Life *
In her captivating latest, Kassabova transports us to the Mesta River in her native Bulgaria ... Kassabova finds hope that this ancient knowledge still has the power to heal us. * Bookseller, *Editor's Choice* *
[It] soars with the luminous prose and unflinching honesty we have come to expect from this brilliantly gifted writer. Elixir is an extraordinary, profoundly moving book... Her prose is breathtaking, the stories heartbreaking * Feminism and Religion *
ISBN: 9781787333260
Dimensions: 236mm x 162mm x 42mm
Weight: 600g
400 pages