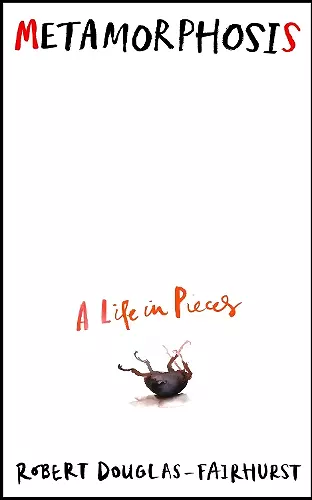 A darkly comic and moving reflection on what it means to be human in a world where nothing is certain, from the award-winning Oxford professor

'The best book about multiple sclerosis'
THE TIMES
'A story about the importance of stories'
GUARDIAN
'An outstanding feat'
SUNDAY TIMES

We all have trapdoors in our lives. Sometimes we jump off just in time ... But sometimes we are unlucky. My own trapdoor was hidden in the consulting room of an Oxford neurologist.

When the trapdoor opened for Robert Douglas-Fairhurst, he plummeted into a world of MRI scans, a disobedient body and the crushing unpredictability of a multiple sclerosis diagnosis. But, like Alice tumbling into Wonderland, his fall did something else. It took him deep into his own mind: his hopes, his fears, his loves and losses, and the books that would sustain, inform and nourish him as his life began to transform in ways he could never have imagined.

From Kafka to Barbellion, this is a literary map of the journey from the kingdom of the well to the land of the sick, and forwards into a hopeful future. It's an ode to great writing, to storytelling, to science and to the power of the imagination.
Metamorphosis is the best book I have read about multiple sclerosis, and that is because it is about so much more... it is simply a beautiful piece of writing. * The Times *
An outstanding feat of bravery and brio... a riveting account of the metamorphosis he has endured... a buoyantly written, piercingly perceptive book. * Sunday Times *
An account of living with multiple sclerosis that is both deeply literary and painfully honest as it charts his journey into ill health. * Financial Times, *Summer Reads of 2023* *
The writing is all elegance and wit. * The Times, *2023's Top 50 Non-Fiction Books* *
Heartening and unexpectedly gripping... an immensely powerful book... it persuasively builds the case for the ability of stories to offer hope and solace; to help us become ourselves, over and over, even in extremis. * Spectator *
Douglas-Fairhurst has written a memoir that is not miserable. It's funny and raw... Magical: pages speed by, fuelled by the author's formidable intellect. * Financial Times, *Book of the Week* *
Level-headed and informative... What he [Douglas-Fairhurst] gives us isn't just the story of an illness but a story about the importance of stories. * Guardian *
Written by an entertaining storyteller and offers a rare insight into a situation that few people will have to face, but that it does us good to contemplate. * Mail on Sunday *
A brilliant account of one man's tilted world following a diagnosis of multiple sclerosis. * Observer *
A pitch-perfect memoir: stylish, erudite, touchingly honest and darkly funny. -- Jacqueline Wilson, author of The Story of Tracy Beaker
This is a beautiful and devastating portrayal of a life-changing diagnosis ... It is what the best writing should be: a book that will stay with you for life. -- Natalie Haynes, author of A Thousand Ships
While this book deals with distress, physical pain and uncertainty, its wry humour and lightness of touch make it anything but a misery memoir... superb. * Times Literary Supplement *
For all its grim subject the book is an unexpected delight. * Literary Review *
A richly textured and syncopated book, alternately erudite and irreverent. * London Review of Books *
A complex, tender meditation on art, family and resistance. -- Skinny
Metamorphosis is told in such blackly comic style that you can't help chuckling. * Good Housekeeping *
ISBN: 9781787334250
Dimensions: 222mm x 144mm x 27mm
Weight: 392g
272 pages