Bad Diaspora Poems
'A once in a generation poet' Caleb Femi
Format:Hardback
Publisher:Vintage Publishing
Published:6th Jul '23
£14.99
Available for immediate dispatch.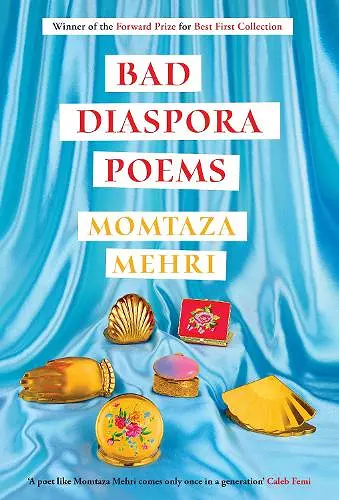 *SHORTLISTED FOR THE FORWARD PRIZE 2023*
*WINNER OF AN ERIC GREGORY AWARD 2023*

Diaspora is witnessing a murder without getting blood on your shirt.

'A once in a generation poet'
CALEB FEMI, author of POOR

'Masterful'
VICTORIA ADUKWEI BULLEY, author of QUIET

'A new turn in global anglophone poetry'
KAYO CHINGONYI, author of A BLOOD CONDITION

The definition of diaspora is the dispersion of people from their original homeland. But what does it mean to write diaspora poetry? Momtaza Mehri's debut collection poses this question, taking us from Mogadishu to Naples, Lampedusa to London. Mixing her own family's experience with the stories of many others across nineteenth- and twentieth-century Somalia, Bad Diaspora Poems confronts the ambivalent nature of speaking for those who have been left behind.

We meet the poet, the translator, the refugee, the exile, and the diaspora kid attempting to transcend their clichéd angst. Told in lyric, prose and text messages, and taking place in living rooms and marketplaces, on buses and balconies, on transatlantic journeys and online, these are essential poems about our diasporic age.
Mehri brings unflinching discursive skills to verse that melds criticism, autobiography and essay while still achieving a crisp sonic momentum characteristic of lyric poetry... Mehri is a dazzling voice that refuses to speak from a podium * Guardian *
Momtaza Mehri's debut collection refuses the presentist and egoist pitfalls of the lyric and avoids the reductive slipstreams and intellectual constraints of identity politics. With her dexterity of tone and breadth of reference, her sense of history and geopolitical scope, Mehri develops a unique new poetic, rich in its connectivity and attentiveness. Bad Diaspora Poems satirical insight and humane outlook are energising, radical and remarkable -- Jack Underwood, author of Happiness
A poet like Momtaza Mehri comes only once in a generation. Mehri is a writer of refined insight, audacious imagination and artful technicality - a genius. Bad Diaspora Poems is a feat, its scope of movement both in time and geography is immense, you are swallowed into its voyage. This is an essential collection in the Black diasporic discourse -- Caleb Femi, author of Poor
Momtaza Mehri is in the advance party of a daring new turn in global anglophone poetry. Though to say 'new' doesn't do full justice to her innovation; the word implies adherence to tastes or fashion but what we have in Bad Diaspora Poems is something rarer altogether: the poems collected here, being poems with a timeless sense of style, are destined to last even as they speak so incisively to our present moment -- Kayo Chingonyi, author of Kumukanda
Sensitive, tender, measured, hopeful…Bad Diaspora Poems is a classic * Magma *
Masterful... The poems gathered here take nothing for granted. They revel in the slippages of belonging and identity and strive for something greater, something closer to a revolutionary kind of love -- Victoria Adukwei Bulley, author of Quiet
Momtaza Mehri is a groundbreaking new voice. Raw and sophisticated, Bad Diaspora Poems is a gloriously rich mosaic, offering insights into our planet's increasingly exiled populations, the plight of refugees, and a passionate longing for the homeland -- Pascale Petit, author of Mama Amazonica
This collection feels special, even in the hands, a total privilege to read. Mehri is an incredible poet, thinker, seeer; ridiculously intelligent, irreverent, and with the ability to laugh, bitterly, in the face of some of the saddest personal and world history. Her unique poetic eye cuts through everything -- Rachel Long, author of My Darling from the Lions
There's something arresting about Momtaza Mehri's multilingual verses * Dazed's New Generation Poets *
ISBN: 9781787334373
Dimensions: 204mm x 140mm x 15mm
Weight: 225g
128 pages