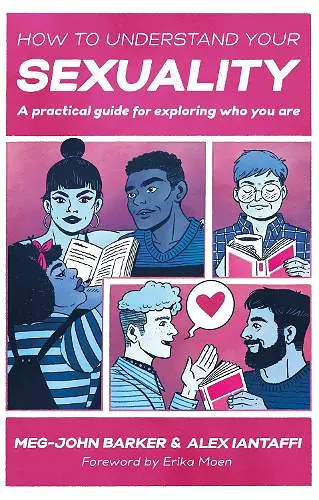 The ultimate guide to exploring and understanding your sexuality
An essential guide to sexuality from the authors of How to Understand Your Gender. The book explores the topic through a social, cultural and historical lens, with reflection points and activities throughout. Covering a diverse range of sexualities and relationship structures, the authors invite the reader to reflect on their own experience and explore their identity.
'A goldmine of wisdom' CYNDI DARNELL
'Gentle, kind and embracing' JUNO ROCHE
'Interesting and engaging' JUSTIN HANCOCK

Gay, straight, queer, pansexual, demisexual, ace...? Sexuality is complex and diverse, but it doesn't have to be confusing.

This down-to-earth guide is the ultimate companion for understanding, accepting and celebrating your sexuality. Written by two internationally renowned authors and therapists, the book explains how sexuality works in terms of our identities, attractions, desires and practices, and explores how it intersects with our personal experiences and the world around us.

With activities and reflection points throughout, it offers space to tune into yourself and think deeply about your own sexuality. You'll hear from people across the sexuality spectrum and in different relationship set-ups, and be inspired by the ideas of scholars, activists and practitioners. Sexuality is a vast and wonderful landscape - let this book guide you on your journey!
From the outset this book feels gentle, kind and embracing. The clarity of structure and straightforward guidance helps to lead me through what is an incredibly nourishing text. Perhaps this sounds trite, but as I was reading, I knew that the authors cared deeply about my journey through the book.
And that's rare indeed.
-- Juno Roche, writer
In
How To Understand Your Sexuality,
Barker & Iantaffi bring you a goldmine of wisdom, helping us break down and understand the struggles of sex in our everyday lives. From understanding the difference between identity and practice, to what it means personally, politically socially and erotically, why it matters, and considerations for how to do it differently, this guide offers people interested in sex a useful handbook for exploring their own sexuality and understanding that of their partners, peers and the world around them. An erotic almanac of our times, HTUYS is destined to be a go-to text for those seeking a portal into pleasure wisdom of the mind, body and heart. -- Cyndi Darnell: Sex & Relationships Therapist & Somatic Sexologist
This is such an interesting and engaging book. Meg-John and Alex do a fantastic job at helping you to understand and articulate your sexuality, both as it is now but also what it might be. I implore fellow straight blokes to read this! Use these tools to examine your sexualities and intentionally allow them to become. Also use this guide to nourish your loved ones that they might become their (a)sexual selves too. -- Justin Hancock, sex and relationships educator bishuk.com & Culture Sex Relationships podcast
Informative and readable. At a time when sexuality has become something to be regulated, this book invites wonder and curiosity. * Manu Bazzano, Therapy Tod
ISBN: 9781787756182
Dimensions: 212mm x 134mm x 22mm
Weight: 410g
352 pages