Ace Voices
What it Means to Be Asexual, Aromantic, Demi or Grey-Ace
Format: Paperback
Publisher: Jessica Kingsley Publishers
Published: 21st Dec '22
£16.99
Available, normally delivered within 3-6 days.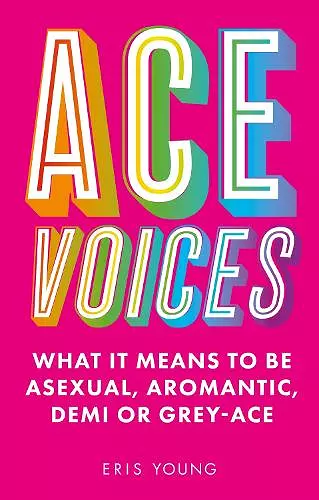 A love letter to the ace community, exploring what it means to be asexual, aromantic, demi or grey-ace, and providing support, information and personal stories for a-spec people and their families and friends.
A richly woven tapestry of ace stories, exploring what it means to be asexual. Including interviews with people across the ace spectrum, this love letter to the ace community offers support, advice and inspiration to help show you are not alone.
How do we experience attraction?
What does love mean to us?
When did you realise you were ace?
This is the ace community in their own words.
Drawing upon interviews with a wide range of people across the asexual spectrum, Eris Young is here to take you on an empowering, enriching journey through the rich multitudes of asexual life.
With chapters spanning everything from dating, relationships and sex, to mental and emotional health, family, community and joy, the inspirational stories and personal experiences within these pages speak to aces living and loving in unique ways. Find support amongst the diverse narratives of aces sex-repulsed and sex-favourable, alongside voices exploring what it means to be black and ace, to be queer and ace, or ace and multi-partnered - and use it as a springboard for your own ace growth.
Do you see a story like your own?
'Ace Voices' is a superb introduction to all things asexual and aromantic. It's an absolute invaluable resource for a-spectrum people, for the people in our lives, and for anyone looking to reflect on the impact that restrictive cultural sex and relationship norms have on everyone.

Eschewing outdated narratives of 'lack', and attending to intersections with race, gender, and disability, Young reframes ace and aro experiences as sources of joy and celebration and as leading to relationships and communities founded on mutual trust, open communication, and respect for boundaries - something we could all benefit hugely from.
-- Meg-John Barker, author of How to Understand Your Sexuality
Capturing the highest of highs and lowest of lows, Ace Voices is a wonderfully realistic look at what it means to be aspec in a heteronormative world. -- Sarah Costello and Kayla Kaszyca, hosts of the Sounds Fake But Okay podcast and authors of Sounds Fake But Okay: An Asexual and Aromantic Perspective on Love, Relationships, Sex, and Pretty Much Anything Else
Young weaves together a wonderfully thorough exploration of the a-spec community, striking a balance between the academic and very personal. This balance makes this book both accessible to those looking to learn about asexuality, and those already within the community looking to further understand themselves. A very thoughtful and refreshing read that seamlessly breaks down the complexity of the a-spec community. -- Rebecca Burgess, author of How To Be
ISBN: 9781787756984
Dimensions: 214mm x 138mm x 28mm
Weight: 320g
288 pages