x+y
A Mathematician's Manifesto for Rethinking Gender
Format:Paperback
Publisher:Profile Books Ltd
Published:4th Mar '21
£9.99
Available to order, but very limited on stock - if we have issues obtaining a copy, we will let you know.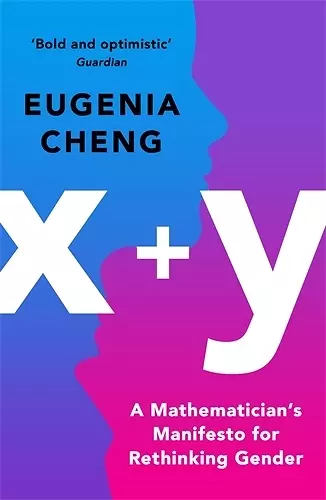 What if we could do the impossible and remove gender from the equation?
From imaginary numbers to the fourth dimension and beyond, mathematics has always been about imagining things that seem impossible at first glance. In x+y, Eugenia Cheng draws on the insights of higher-dimensional mathematics to reveal a transformative new way of talking about the patriarchy, mansplaining and sexism: a way that empowers all of us to make the world a better place. Using precise mathematical reasoning to uncover everything from the sexist assumptions that make society a harder place for women to live to the limitations of science and statistics in helping us understand the link between gender and society, Cheng's analysis replaces confusion with clarity, brings original thinking to well worn arguments - and provides a radical, illuminating and liberating new way of thinking about the world and women's place in it.
A way of seeing this exhausting debate from a completely new angle ... bold and optimistic * Guardian *
Compelling ... x+y provides useful new tools for change, for those - like me - involved in diversity, equity and inclusion initiatives. For those who are not yet involved, she sets out reasons to become so. And I'm a new fan of pure mathematics. Dr Cheng, can we be friends? * Nature *
... a fascinating, disarmingly accessible read and a wonderful example of what academics should in general do much more of * Irish Times *
Praise for The Art of Logic: 'Mind-expanding ... a meaningful contribution to creating a better society as well as happier conversations and relationships * Guardian *
With humour, grace, and a natural gift for making explanations seem fun, Eugenia Cheng has done it again. You'll think more clearly after reading this book -- Daniel Levitin, bestselling author of The Organised Mind & A Field Guide to Lies and Statistics
Radical and liberating * Emerald Street *
A perceptive analysis of logic and its limitations ... Cheng is successful not only in helping readers think more clearly, but in helping them understand why others sometimes appear to be illogical * Times Higher Education *
ISBN: 9781788160414
Dimensions: 198mm x 129mm x 16mm
Weight: 230g
272 pages