Butler to the World
How Britain became the servant of tycoons, tax dodgers, kleptocrats and criminals
Format:Paperback
Publisher:Profile Books Ltd
Published:19th Jan '23
£10.99
Available for immediate dispatch.
This paperback is available in another edition too: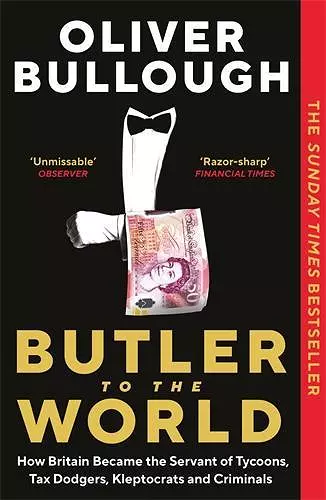 Including a new introduction on the British response to the Ukraine crisis - the Sunday Times bestseller that reveals the scandalous reality of Britain's new position in the world
With a new introduction on the Ukraine crisis LONGLISTED FOR THE FINANCIAL TIMES BUSINESS BOOK OF THE YEAR 2022 A TIMES AND SUNDAY TIMES BUSINESS BOOK OF THE YEAR 2022 A DAILY MAIL BEST CURRENT AFFAIRS BOOK OF 2022 A DAILY MIRROR BEST NON-FICTION BOOK OF 2022 A SPECTATOR BOOK OF THE YEAR 2022 PRESENTER OF THE BBC RADIO 4 SERIES 'HOW TO STEAL A TRILLION' A WATERSTONES BEST POLITICS BOOK OF THE YEAR 2022 AN IRISH TIMES NON-FICTION BOOK OF THE YEAR 2022 A MANAGEMENT TODAY BEST LEADERSHIP BOOK OF 2022 How did Britain become the servant of the world's most powerful and corrupt men? From accepting multi-million pound tips from Russian oligarchs, to the offshore tax havens, meet Butler Britain... In his Sunday Times-bestselling expose, Oliver Bullough reveals how the UK took up its position at the elbow of the worst people on Earth: the oligarchs, kleptocrats and gangsters. Though the UK prides itself on values of fair play and the rule of law, few countries do more to frustrate global anti-corruption efforts. From the murky origins of tax havens and gambling centres in the British Virgin Islands and Gibraltar to the influence of oligarchs in the British establishment, Butler to the World is the story of how we became a nation of Jeeveses - and how it doesn't have to be this way.
BUSINESS BOOK OF THE YEAR 2022 * The Times *
Brilliant -- Marina Hyde * Guardian *
A really engrossing and enraging read -- Ian Rankin
Bullough's angry, fascinating study of corruption and power in modern-day geopolitics has the pace of an airport thriller and the righteous zeal of a prosecuting barrister * Observer *
A very, very good book -- Ian Hislop
Terrific ... pulled by a current of Tory indolence, Britain flounders in a sea of dirty money -- Nick Cohen * Observer *
Razor-sharp * FT *
Could a book ever be more timely? ... Highly readable * The Times *
Bullough's highly readable account of the UK's role in facilitating global financial wrongdoing is a call to action * Daily Mail *
Unmissable -- Tim Adams * Guardian *
A terrifyingly good book -- Alastair Campbell
Shockingly timely ... excellent * Mail on Sunday *
Grimly fascinating ... remarkable -- Dominic Sandbrook * Sunday Times *
Bullough is cynical, and his findings make depressing reading... but he's right that the whole system is built to facilitate the crooks, and takes the rest of us for mugs * Spectator *
Uncommonly timely * Herald *
What's most apt about Bullough's butler analogy is the appearance of gray-flannel propriety, and the ways it can impart an aura of respectability to even the most disreputable fortune. -- 'Best Books of 2022: Nonfiction' * New Yorker *
[A] Phenomenal book -- Liam Byrne MP
Bullough charts in jaw-dropping detail how our deregulated financial sector helps dodgy plutocrats squirrel away their fortunes * Daily Express *
Highly readable... deserve[s] praise for going beyond moralising and pointing out how an industry geared to enabling the corrupt is not just unsavoury but can hurt a country's real economic prospects' -- Martin Sandbu * FT *
It is hard to imagine a more timely book ... Butler to the World is both a brilliant and depressing blast at decades of malign financial cosiness and the politicians who let it happen ... It takes guts to write and publish a book like this ... Bullough doesn't sit back and drily condemn all this financial skulduggery, he goes to meet the people who helped create the conditions that allowed it to happen -- Robert Verkaik * Guardian *
An urgent account of Britain's history of welcoming corrupt capital ... Mr Bullough argues compellingly that though more anti-corruption funds and tougher enforcement are welcome, what is really needed is a change of philosophy: for principles to take precedence over the profits of a few * The Economist *
Butler to the World's main message - that Britain needs to clean up its act not just for its own good but for that of the world - rings all the louder because of current geopolitics ... it's a damning judgement, but one that Bullough ... is well-positioned to give -- Rory Sullivan * Independent *
Urgent and deeply reported * New Statesman 'Best Books of 2022 so far' *
Jaw-dropping ... Bullough has a gift for making complex financial information comprehensible and strives to leaven this depressing story with jokes and deft character sketches ... timely -- Charlotte Heathcote * Daily Mirror *
Bullough does a great line in deft sketches of personalities -- Eric Rauchway, Distinguished Professor of History at the University of California * TLS *
An essential exposé ... the pages reek of dirty money linked to Britain that Bullough has a nose for sniffing out ... impressive, pacy journalism that will leave you flabbergasted * Irish Sunday Independent *
The term 'timely' is used all too often in the media, but there really isn't a more timely book than Oliver Bullough's Butler to the World ... If you like books where you learn a lot - which we certainly do - then we commend it to you wholeheartedly. * The Fence *
Butler to the World helpfully freeze-frames ... an embarrassing state of affairs, with few signs of Britain's unprincipled eagerness diminishing ... why is the county's politico-financial elite, so convinced of Britain's brand values of honesty and trustworthiness, so open to helping find comfortable homes for the tainted wealth of oligarch, gangster and kleptocrat? * Strong Words *
A horribly brilliant account of just how much historical integrity Britain has sacrificed at the altar of dirty money. Bullough is a compelling and expert guide to the newly-dug sewers flowing through the heart of our political, legal and financial establishment -- James O'Brien, author * How Not to be Wrong *
This is an absolute must-read for everyone who wants to understand Britain's crucial role in the global dirty money crisis. British institutions, our laws, our people and our failure to police effectively means - as Bullough demonstrates - that we are the servants to kleptocrats, money launderers and serious criminals. With the brilliant concept of Britain as the butler, Bullough lifts the lid and explains in a very clear and intelligible way why and how Britain is facilitating illicit finance across the world. The narrative is gripping, the analysis original and powerful and the detailed examples terrifying. This book will provide a powerful contribution to the important debate on the UK and dirty money -- Margaret Hodge, MP and chair of the Public Accounts Committee
Oliver Bullough unsparingly reveals the devastating facts behind Britain's dirty financial secrets and moral guilt while directly challenging the UK to clean up its act. This book is a must-read for those who care about our reputation in the world today -- Andrew Mitchell MP, former British international development minister
Urgent and essential reading. From grasping bankers to opportunistic lawyers and feckless MPs, unable and unwilling to withstand the schemes of the global rich, Oliver Bullough has drilled down to the root of the malaise that's rotting the UK system. Beautifully written with quiet despairing humour, this is the defining story of our times -- Catherine Belton * Putin's People *
Not only a witty and well researched economic history of Britain's role as financial Butler to the world, this is also a savage analysis of Britain's soul. As essential as Orwell at his best -- Peter Pomerantsev * This Is Not Propaganda *
If like me you've ever wondered what all those university graduate schemes were ultimately about, Bullough outlines it here... Timely and revealing -- Lucy Prebble, writer and executive producer * Succession *
Riveting from cover to cover; a jaw-dropping and damning account that will make you sit up and re-evaluate what you think about the City, the UK and global finance -- Peter Frankopan, author * The Silk Roads *
Anyone who cares about the future of this country should read this sizzlingly written and incendiary story of our national decline. For more than 60 years our financial system has been corroded by greed - and has in turn corrupted our politics. This book blows apart Britain's image for gentlemanly respectability and lays bare the real picture: ruthless greed disguised by hypocrisy, and tolerated because of wilful ignorance -- Edward Lucas, author * The New Cold War: How the Kremlin Menaces Both Russia and the West *
The shocking revelation of how the old heart of an unscrupulous empire turned into a fawning servant to the global super-rich. The sooner more people realise this, the better -- Danny Dorling, author * Rule Britannia *
Long-listed for Financial Times/Goldman Sachs Business Book of the Year Award 2022 (UK)
ISBN: 9781788165884
Dimensions: 196mm x 128mm x 26mm
Weight: 246g
304 pages