Boys & Sex
Young Men on Hook-ups, Love, Porn, Consent and Navigating the New Masculinity
Format: Paperback
Publisher: Profile Books Ltd
Published: 11th Feb '21
£10.99
Available, normally delivered within 3-6 days.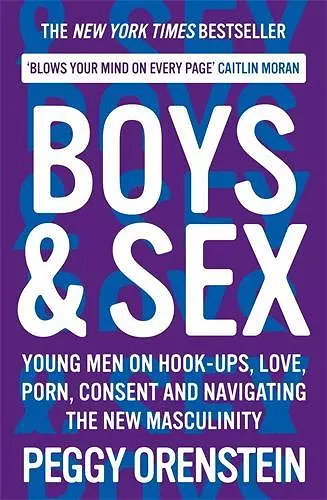 An eye-opening look at how young men are experiencing sexual culture and new masculinity
The New York Times Bestseller 'Blows your mind on every page' Caitlin Moran 'Should be mandatory reading for anyone who cares about the next generation' Lori Gottlieb, New York Times bestselling author of Maybe You Should Talk to Someone Peggy Orenstein broke ground with her bestselling Girls & Sex, exploring young women's right to pleasure and agency in sexual encounters. Now she turns her focus to boys with an examination of how young men are navigating sexual culture in these changing times - and what we need to do to help them. Drawing on comprehensive interviews with young men, psychologists and experts in the field, Boys & Sex dissects 'locker room talk'; pornography as the new sex education; the role of empathy; boys' understanding of hookup culture and consent; and their experience as both perpetrators and victims of sexual assault. By presenting young men's experience in all its complexity, Orenstein unravels the hidden truths, hard lessons and important realities of young male sexuality in today's world. The result is a provocative and paradigm-shifting work that offers a much-needed vision of how boys can truly move forward as better men.
Full of information about what young men really think and do when it comes to sex * Telegraph *
Blows your mind on every page -- Caitlin Moran
Author of the definitive book on girls, porn and hook-up culture ... reveals how teenage boys are also struggling * Sunday Times Magazine *
Both an examination of sexual culture and a guide on how to improve it * Washington Post *
I can't think of a more important book for our times . . . Should be mandatory reading for anyone who cares about the next generation -- Lori Gottlieb, New York Times bestselling author of Maybe You Should Talk to Someone
Peggy Orenstein sheds light on a sensitive and too often misunderstood issue ... Her reporting on sexuality is insightful -- Sheryl Sandberg
Every few pages, the boy world cracks open a little bit ... Even in the most anxiety-provoking moments of Boys & Sex, it's clear that Orenstein believes in the goodness of boys and the men they can become * New York Times *
A clear-eyed portrait of how toxic masculinity takes root-and how we must course-correct in raising our boys before it's too late * Esquire *
Broadly welcomed by men as well as well as women * Observer *
An affirmation of hope, and an exercise in the power of listening * Salon *
A sobering look at the landscape in which young men are growing up * Chicago Tribune *
A stunning portrait of young men in quiet crisis * GQ *
Expertly written ... A candid and fascinating portrait of young American masculinity * Publishers Weekly *
A brisk, bracing read * Men's Health *
If you care even a little bit about women in the 21st century, you MUST read Peggy Orenstein's Girls & Sex * Caitlin Moran on Girls & Sex *
Eye-opening and compassionate -- The Good Men Project
ISBN: 9781788166577
Dimensions: 198mm x 129mm x 18mm
Weight: 255g
304 pages
Main