The Unfair Advantage
BUSINESS BOOK OF THE YEAR AWARD-WINNER: How You Already Have What It Takes to Succeed
Ash Ali author Hasan Kubba author
Format: Paperback
Publisher: Profile Books Ltd
Published: 10th Dec '20
£10.99
Available, normally delivered within 3-6 days.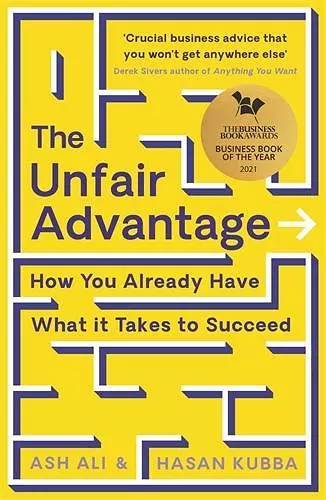 Turn your barriers into a routemap for success
WINNER OF BUSINESS BOOK OF THE YEAR AWARD 2021 AND BEST START UP/SCALE UP BOOK AWARD 2021 'A powerful way to think about success as an entrepreneur.' Ali Abdaal, Productivity YouTuber, Podcaster & Ex-Doctor 'Crucial business advice that you won't get anywhere else.' Derek Sivers, Entrepreneur & Author of Anything You Want This ground-breaking book exposes the myths behind startup success, illuminates the real forces at work and shows how they can be harnessed in your favour. The world isn't a level playing field. Meritocracy is a myth. And if you look at those at the top, you realise that behind every success story is an Unfair Advantage. But that doesn't just mean your parents' wealth or who you know. An Unfair Advantage is any element that gives you an edge over your competition. And we all have one. Drawing on over two decades of hands-on experience, including as the first Marketing Director of Just Eat (a startup now worth over £5 billion), the authors sto identify your own unfair advantages and apply them to any project. Hard work and grit aren't enough, so they explore the importance of money, intelligence, insight, location, education, expertise, status and luck in the journey to success. From Snapchat to Spanx, Oprah to Elon Musk, unfair advantages have shaped the journeys of some of the most successful brands in the world. This book helps you too find the external circumstances and internal strengths to succeed in the world of business and beyond.
A fast-paced read with excellent insights from a remarkable entrepreneurial story -- Daniel Priestley, author * Entrepreneur Revolution *
Deeply true, insightful, and helpful. Crucial business advice that you won't get anywhere else. -- Derek Sivers, entrepreneur, author * Anything You Want *
What a masterful and thought-provoking book: a must for every entrepreneur regardless of the stage of your journey -- Byron Cole, Business Growth Expert and author * Self Made *
An inspirational book ... If you are looking to get into entrepreneurship this book provides the practical advice to get you started! -- Mark Martin MBE
In a no-nonsense approach, this book shows you the truth that business and life aren't fair, and goes into the methods and practices to let you take full advantage of your unique skills and assets. -- Rune Sovndahl, founder of Fantastic Services
A snappy, thought-provoking book that will help anyone make something of their own unfair advantages -- Bianca Miller-Cole, entrepreneur and author * Self Made *
The Unfair Advantage brakes down how people from all walks of life and backgrounds can achieve unfair advantages in their entrepreneurial journey or career. An indispensable handbook for the masses. These learnings are often achieved after many years. Now, you have a book. -- Dion McKenzie, founder of Colorintech and Tech Investor
There is only one life, and things are pretty good, but The Unfair Advantage will give you the fairest advantage of them all. -- Robin Waite, founder of Fearless Business
ISBN: 9781788167543
Dimensions: 198mm x 128mm x 22mm
Weight: 207g
256 pages
Main