Pop Song
Adventures in Art and Intimacy
Format:Hardback
Publisher:Profile Books Ltd
Published:8th Jul '21
£12.99
Available for immediate dispatch.
This hardback is available in another edition too: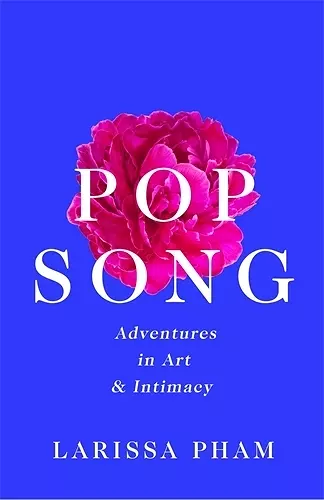 An inventive, exquisite memoir-in-essays by a blazing new talent
Shortlisted for the 2022 National Book Critics' Circle John Leonard Prize for best first book '...I don't know what comes after, once I decide to let desire have its way with me. How to un-melt the melted? How to turn the ground powder back into a person? This idea points to a knowledge that I don't have: how to love without losing the self.' Plumbing the well of culture for clues about love and loss - from Agnes Martin's abstract paintings to Anne Carson's Eros the Bittersweet to Frank Ocean's Blonde - this brilliant work of debut nonfiction explores the state of falling in love, whether with a painting or a person. Pham creates a perfectly fractured portrait of modern intimacy, triumphant in its vulnerability and restlessness. Pop Song is a book about distances: the miles we travel to get away from ourselves, or those who hurt us, and the impossible gaps that can exist between two people sharing a bed. Here is a map to all the routes by which we might escape our own needs before finally finding a way home.
Generous, insightful, and piercingly honest ... brings new light to the hidden contours of the heart. -- Alexandra Kleeman, author of Intimations
There are so many times in my past when reading Pop Song could have saved my life. It may very well save yours -- Esmé Weijun Wang, author of The Collected Schizophrenias
Reading Pop Song is like being deep in a midnight email exchange with the first person who broke your heart. Pham darts between heartbreak and fine art with startling and delightful ease. -- Rowan Hisayo Buchanan
Combines the thrilling and agonized travails of her young narrator with the lucid and steady eye of a born critic ... A bold and promising debut -- Melissa Febos, author of Abandon Me
Pop Song takes me everywhere I didn't realize I was longing to go ... I am absolutely in love. You will be, too. -- Kristen Radtke, author of Imagine Wanting Only This
A roadmap to transcendence, in essays that are as intimate as their subjects -- Tony Tulathimutte, author of Private Citizens
A vulnerable, nuanced story about the non-linear process of overcoming heartbreak and letting go. Like your favourite song or first love, Pham's words won't just get stuck in your head, they'll stay there * Bust *
Her gaze is ceaselessly empathetic, and it is this generosity that binds the reader to her quest for understanding ... even with all the pain of heartbreak, violence and loss, Pham manages to generate sincere hopefulness * Observer *
In a manner reminiscent of contemporaries Leslie Jamison and Jia Tolentino, Pham seamlessly blends the personal and the cultural, the confessional and the critical, the cerebral and the sentimental, to create an exciting and imaginative memoir. * Kirkus *
A masterclass in emotional vulnerability ... Pop Song pivots between art and personal narrative with such dexterity that they begin to feel inseparable. * Nylon *
Pham takes your head in her hands, looks you in the eyes, and makes her desire known. That's what the journey is all about * Bitch magazine *
Pham's attention is delicate and lucid, cleaving to her subjects like film... As accessible as it is smart. Pham's introspection is never solipsistic, but rather an insight into a mind tuned to life's minute rhythms. * Columbia Review *
Blends memoir with commentary acutely attuned to various art objects and experiences in the present. Pop Song explores what it means to want a life and to strive for it: * LA Review of Books *
ISBN: 9781788168021
Dimensions: 204mm x 138mm x 28mm
Weight: 412g
288 pages