A Spotter's Guide to the Countryside
Uncovering the wonders of Britain's woods, fields and seashores
Format:Paperback
Publisher:Profile Books Ltd
Published:11th May '23
£12.99
Available for immediate dispatch.
This paperback is available in another edition too: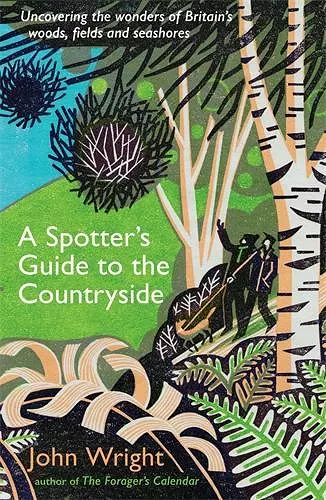 A grown-up I-Spy for all those mysterious features of the countryside - from the bestselling author of The Forager's Calendar
Discover the answers behind the mysteries of the countryside in all their fascination and beauty... Ever wondered about the masses of twigs in bare-branched trees that look like abandoned nests? Seen fuzzy red balls on roses? A stranded pond on a hilltop? Or even considered the shaded ways we walk along? One of Britain's best-known naturalists, John Wright describes and explores fifty of the natural (and unnatural) puzzles of the countryside that might confound the ever-curious. He reveals the histories and practicalities of those that are man-made and the astounding and intricate lives of the natural wonders around us. From the enormous to the truly tiny he illuminates the oddities that pepper our countryside and reveals the many pleasures of spotting and understanding them. Informative, entertaining and beautifully illustrated, this is for anyone who has ever gone outside and wondered what is that?
BEST NATURE BOOKS OF 2021 'Highly readable ... Apart from his ready knowledge of nature, [John Wright] has a sharp eye, a ready wit and a keen nose for a good story. Superb. * Countryfile Magazine *
Praise for The Forager's Calendar: 'He writes so engagingly ... [This book] is a treasure. It is beautifully produced, designed and illustrated. -- John Carey * The Sunday Times *
John Wright writes as though he's talking directly to you, a good friend in the same room. His harvest of fascinating information is worn lightly, with funny, whimsical observations... this wonderful book should be well-thumbed by anyone who is interested in the natural world. * BBC Countryfile *
A hugely useful, well-illustrated and often funny book * The Times *
ISBN: 9781788168274
Dimensions: 196mm x 128mm x 20mm
Weight: 320g
240 pages