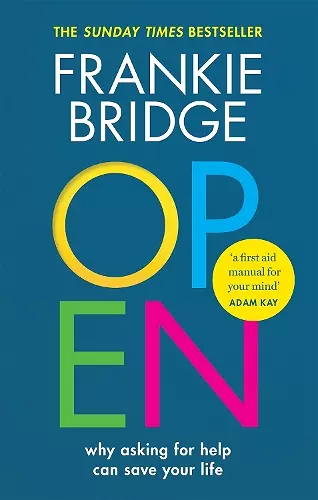 "I hope my book will showcase the importance of being open in a shut off world, the need to talk about the good days as well as the bad days, so we can all start to have open and honest conversations about how we really are, not how we think we should be."
FRANKIE BRIDGE
**THE SUNDAY TIMES BESTSELLER**FEATURING A NEW CHAPTER ON COVID-19 AND MENTAL HEALTH 'Brave and beautiful... a first aid manual for your mind.'
- Adam Kay, bestselling author of
This is Going To Hurt
'Very readable. Very relatable. Intensely moving but also full of practical advice.'
- Alastair Campbell
"I lived with it in silence. I tried to conquer it alone. And then I asked for help. It took me hitting hard, sharp rock bottom for me to truly recognize how ill I was."
In
OPEN
, Frankie Bridge opens up about her ongoing journey from breakdown to breakthroughs and through self-loathing, hospitalization and self-acceptance. Part narrative exploration, part guide, this book will help you to understand the
importance of talking
and
helping each other
.
It combines guidance and advice from the psychologist and psychiatrist who pulled her back from the brink along with their notes on her and conversations with her.
This book will help people open up about their mental health and encourage us all to speak out.Afterword by Mind.

'OPEN is an intimate, honest and powerful read. So personal you want to jump into the pages.' - Giovanna Fletcher, bestselling author of
Happy Mum, Happy Baby
'A beautiful read.' - Zoe Ball, BBC Rad
ISBN: 9781788402705
Dimensions: 194mm x 126mm x 24mm
Weight: 240g
272 pages