Cross of Fire
Format:Paperback
Publisher:Bloomsbury Publishing PLC
Published:10th Dec '20
£8.99
Available to order, but very limited on stock - if we have issues obtaining a copy, we will let you know.
This paperback is available in another edition too: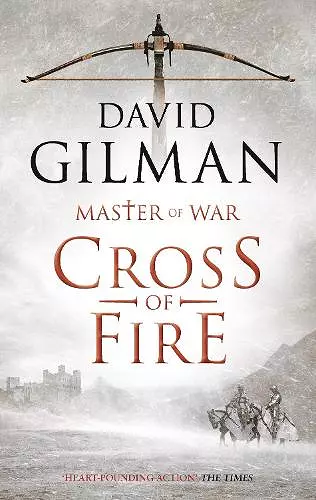 The sixth instalment of David Gilman's gripping chronicle of the Hundred Years' War.
The Hundred Years War still rages on and the French army thirsts for Thomas Blackstone's blood. The sixth instalment in the epic Master of War series.
WINTER, 1362 After decades of successful campaigning in France,
Thomas Blackstone
, once a common archer, has risen to become
Edward III's Master of War
. But the title is as much a curse as a blessing. Success has brought few rewards: his family – bar his son Henry – is dead, slaughtered; his enemies only multiply. Death, in so many guises, beckons. As he battles to enforce his King's claim to French territory, Blackstone will assault an impregnable fortress, he'll become embroiled in a feud between French aristocrats, he'll be forced into pitched battle in the dead of winter... and he'll be asked to pay an impossible price to protect something much more precious to the King than mere land. All the while, out of the east, a group of trained killers, burning with vengeance, draw ever closer. Praise for David Gilman: 'The level of suspense is ratcheted up to a truly brutal level'
SHARON PENMAN
'A gripping ride'
WILBUR SMITH
'Gilman does heart pounding action superlatively'
THE TIMES
'Like a punch from a mailed fist, Master of War is a gripping chronicle of pitched battle, treachery and cruelty'
ROBERT FABBRI
If you're a fan of historical fiction you'll be a fan of David Gilman's series... A bloody good war gripper' * Weekend Sport *
ISBN: 9781788544962
Dimensions: unknown
Weight: unknown
480 pages