Queer
A Collection of LGBTQ Writing from Ancient Times to Yesterday
Format:Hardback
Publisher:Bloomsbury Publishing PLC
Published:21st Jan '21
£25.00
Available for immediate dispatch.
This hardback is available in another edition too: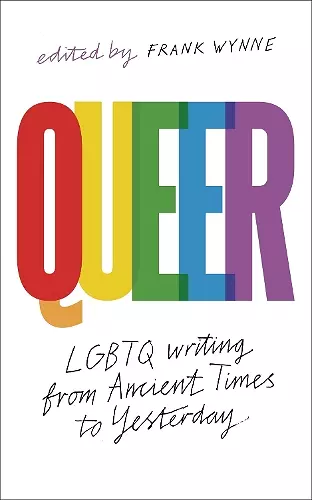 100 of the finest stories celebrating LGBTQI love, selected by award-winning translator Frank Wynne.
LGBTQ writing from ancient times to yesterday, selected by award-winning translator Frank Wynne.
Since the dawn of literature, queer people have turned to writing to document their existence: to share great triumphs and deep despairs; to praise the virtues of their lover, extol their loneliness and proclaim their lust; to tell of their peculiarities and mundanities. For almost as long, they have been censored and bowdlerised, persecuted and relegated to the margins. No longer. Alive in these pages, readers will hear Homer's Achilles beat his chest in grief for the loss of his Patroclus and Paul Verlaine exalt the arsehole of his lover. They will see Alison Bechdel tiptoe then leap out of the closet and Juno Dawson come out again, but differently. They will bite and lick and groan in sweet surprise with Roz Kaveney, and fall in and out of love alongside Qiu Miaojin in Paris and Taiwan. They will recognise queer saints and icons – Audre Lorde, Larry Kramer, Virginia Woolf – and meet young queer, trans and non-binary writers – Keith Jarrett, Zhang Yueran and Niviaq Korneliussen, among others. Frank Wynne allows their voices to ring out, unashamed and unabashed, in eighty pieces that straddle the spectrum of queer existence: short stories, poems, essays, extracts and scenes from countries the world over, from ancient times to yesterday.
Reviews for Queer:
'A landmark anthology of queer writing'
BBC Front Row
'A landmark collection of LGBTQ writing from ancient times to yesterday, featuring powerful voices in many literary forms'
Spectator, Books of the Year
'A fearless and life-affirming celebration of what Gilbert Adair [...] called 'the second most natural thing in the world''
Review 31, Books of the Year
A landmark anthology of queer writing... It brings together an unusually broad range of voices from across the ages and the globe to form a survey of queer literature' * BBC Front Row *
A groundbreaking collection * DIVA *
A landmark collection of LGBTQ writing from ancient times to yesterday, featuring powerful voices in many literary forms, from Homer and Sappho to Andrew McMillan and Niviaq Korneliussen. Many of the writers included were new to me, not least because the book manages to avoid the lazy, Anglocentric default that usually bedevils collections of this type. The resulting volume is more surprising, more various and richer for it * Spectator *
A spectacular anthology * Review 31 *
ISBN: 9781789542349
Dimensions: unknown
Weight: unknown
624 pages