She Made It
The Toolkit for Female Founders in the Digital Age
Format: Paperback
Publisher: Kogan Page Ltd
Published: 3rd Jan '21
£14.99
Available, normally delivered within 3-6 days.
This paperback is available in another edition too: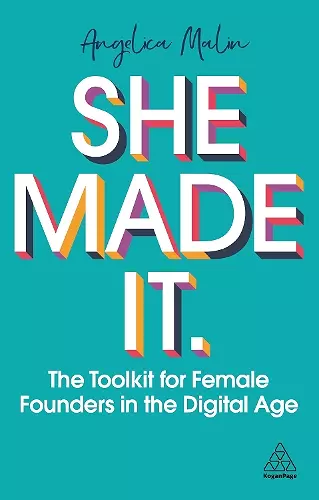 Discover how to launch a successful business and find your voice in the often male-dominated world of business and start-ups.Want to be the next Ella Mills? Award-winning rising star entrepreneur, Angelica Malin shows you how. For a new generation of fiercely independent and ambitious career women, going at it alone and even thinking you could launch your own successful business remains a pipe dream. The business world, and the start-up scene in particular, remain ruthless, unwelcoming and scary. She Made It is the secret weapon you need. With honesty, practicality and a helping of epic and successful women in business, this book offers you a voice of reason and encouragement that will allow you to square up to the big players in Silicon Valley or any of the tech entrepreneur scenes of the world. She Made It is your go-to guide to launching your own business, as well as to finding your feet and voice as a woman in business. It details the practicalities of being an entrepreneur and your own boss, guiding you through the day to day running of a start-up with lessons in hiring a team, raising investment and backing yourself and your ideas. It also addresses the challenges of being a female founder and businesswoman, with sections on stress management, finding your voice and style and building a personal brand. Angelica Malin has been there. An award-winning rising star entrepreneur, she tells the story of how she has overcome some of the barriers to success and tapped into a wealth of knowledge from fellow women founders. You can absolutely break out of the 9 to 5 - get your inspiration from She Made It and change your life.
"I wish I'd had this book at the beginning of my journey and I'm sure it'll resonate with all aspiring female entrepreneurs. It is jam-packed with practical advice and inspiring case studies - a must-read!" * Saasha Celestial-One, Co-founder and Chief Operations Officer, OLIO *
"Essential for any aspiring entrepreneur. She Made It empowers people to take the plunge but also deals with the real challenges entrepreneurship brings." * Dan Murray-Serter, Co-founder, Heights; and host, Secret Leaders podcast *
"A much-needed guide that will empower so many women." * Shahroo Izadi, bestselling author, The Kindness Method and The Last Diet *
"The ultimate handbook for any aspiring entrepreneur - She Made It is smart, accessible and the perfect first step for any woman wanting to run her own business." * Rebecca Reid, former Digital Editor, Grazia; and author, Perfect Liars and The Power of Rude *
"Practical and inspirational in equal measure - She Made It is packed full of advice, inspiration and wisdom from not just Angelica Malin, but many successful female entrepreneurs. This is a must-read, must-use toolkit for the next generation of kickass female founders and business leaders." * Katie Vanneck-Smith, Co-founder and Publisher, Tortoise Media *
"This is the guide every female entrepreneur needs when starting out. Angelica Malin demystifies what is really involved in starting your business and what it takes to succeed - all the things I wish I'd known beforehand!" * Stephanie Johnson, Founder and Co-chief Executive Officer, Pollen + Grace *
"This is the book I wish I'd had when I was getting started. It's absolutely comprehensive, practical, no-nonsense - and truly inspirational! As a reader, you are taken deep beneath the surface, emerging with a clear idea not just of what to do with your life, but why." * Rachel Carrell, Founder and Chief Executive Officer, Koru Kids *
"Jam-packed with practical information and actionable tips. The ultimate toolkit for women who want to take control of their career." * Zanna Van Dijk, Influencer and Co-founder, Stay Wild Swim *
"The book I wish I'd had when starting my business. It covers all areas you need to mentally prepare yourself and your business for success. All female entrepreneurs - new and experienced - can take what they need from She Made It." * Lucy Hitchcock, Founder, Sassy Digital and Partner in Wine *
"A vital toolkit for any founder looking to build a structurally sound business, She Made It leverages decades of combined entrepreneurial learnings to ensure that 'learning the hard way' becomes a concept of the past." * Gabriela Hersham, Co-founder and Chief Executive Officer, Huckletree *
"It's such an exciting time for female entrepreneurs and this book really helps demystify the process of launching your own business, with lots of great actionable tips and real-life examples. A must-read for any woman wanting to start their own business - your toolkit for success in 2021!" * Camilla Ainsworth, Founder and Chief Executive Officer, M+LKPLUS *
ISBN: 9781789666847
Dimensions: 215mm x 138mm x 11mm
Weight: 360g
256 pages