Still Mine
An absolutely gripping private investigator crime novel
Format:Paperback
Publisher:Canelo
Published:8th Jul '21
£8.99
Available to order, but very limited on stock - if we have issues obtaining a copy, we will let you know.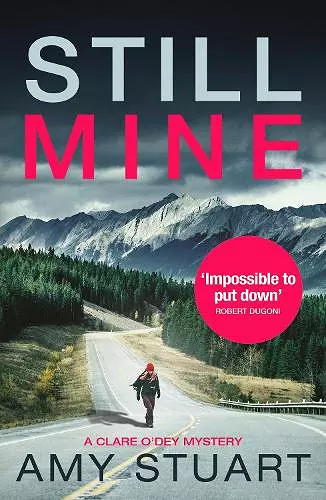 She's on the hunt for a missing woman, but she's being hunted herself.
Clare is on the run. From her past, from her husband, from her own secrets. When she arrives in the remote mining town of Blackmore asking about Shayna Fowles, a local girl who disappeared, everyone wants to know who Clare really is and what she's hiding. Everyone in Blackmore is hiding something, but Clare more than most, including what ties her to Shayna in the first place.
Mysteries around Shayna's disappearance abound - did she flee? Was she killed? Is it possible she's still alive? As Clare unravels the truth, she must also come face-to-face with her own demons and confront what she's really running from.
A tense and gripping mystery from bestselling author Amy Stuart, perfect for fans of Liz Nugent and Lisa Gray.
Praise for
Still Mine
'An impressive debut, rooted in character rather than trope, in fundamental understanding rather than rote puzzle-solving.' The Globe and Mail
'Stuart is a sensitive writer who has given Clare a painful past and just enough backbone to bear it.' New York Times
'A gripping page-turner, with a plot that takes hold of you and drags you through the story at breakneck speed. The characters are compelling, the setting chilling and the suspense ever-present.' Toronto Star
'Author Amy Stuart has created a likable heroine, complete with some pretty serious flaws. Between Clare and the other characters of Blackmore, the story is both haunting and compelling.' Vancouver Sun
'Twisty and swift, Amy Stuart's Still Mine is a darkly entertaining mystery machine. But what will really surprise you is the emotional foundation on which it has been built.' Andrew Pyper, bestselling author of The Homecoming
'Still Mine delivers all the nail-biting moments of a fast-paced thriller and filters them through the eyes of girl-with-a-past Clare O'Dey: deeply flawed yet instantly recognizable, O'Dey is a noir detective hero for a postmodern age. Author Amy Stuart sends one missing woman out to look for another one, and the result is chilling. You'll find yourself turning the pages faster and faster.' Elisabeth De Mariaffi, author of The Devil You Know
'An intricately woven thriller. . . . You'll want desperately to solve the mystery not only of the missing Shayna, but of Clare O'Dey, Amy Stuart's...
ISBN: 9781800324657
Dimensions: 198mm x 129mm x 19mm
Weight: unknown
320 pages