A Terrible Village Poisoning
A funny and feel-good British cosy mystery
Format:Paperback
Publisher:Canelo
Published:23rd Feb '23
£8.99
Available for immediate dispatch.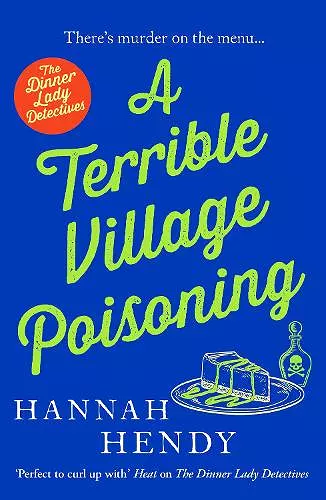 The local mayor has a dinner date with death…
With school out for the summer, Margery and Clementine Butcher-Baker are taking advantage of the break to go on holiday. They plan to explore the village of St-Martins-on-the-Water and rest before the chaos of Mrs Smith's impending hen do. By the end of their first night, the local mayor lies dead on the floor of the hotel restaurant, having been poisoned by his meal. The villagers are convinced: The Poisoner is back.
As the residents turn to the duo with suspicion and begin to freeze them out, Margery and Clementine are left with more questions than answers. Everyone is convinced that the pair – and Clementine in particular – are bad news, but why? And as more people in the village start to become unwell, the question remains, is The Poisoner back, or is this the work of a new killer? And will they strike again?
A charming cosy mystery that will make you laugh out loud, perfect for fans of Julia Chapman and Fiona Leitch.
Praise for
A Terrible Village Poisoning
'A Terrible Village Poisoning is a really great cosy whodunnit. The plot had me guessing right to the end and the cast of characters, so warm and vivid, were an absolute joy. I'm really looking forward to the next one.' Ian Moore, author of Death and Croissants
'A favourite series of mine. Hendy has written a great mystery with the perfect blend of suspects, clues and red herrings that you'll be scratching your head till the end. Highly recommend!' ⭐⭐⭐⭐⭐ Reader review
'An enjoyable, light hearted read. I love Clementine and her dry wit and humour, and Margery is the perfect partner for her... The characters are so well written that they are really easy to picture in the mind's eye.' ⭐⭐⭐⭐⭐ Reader review
'I am absolutely in love with the series… it made me laugh out loud! Margery and Clem are a delight. Can't wait for book four!' ⭐⭐⭐⭐⭐ Reader review
'This cozy crime was a perfect read on a cold day snuggled under a blanket and drinking hot tea. I really enjoy this. I loved Margery and Clementine.' ⭐⭐⭐⭐⭐ Reader review
'Another excellent adventure.' ⭐⭐⭐⭐⭐ Reader review
'I'm a massive fan of Clementine and Margery, if ever I needed a crime solved...
ISBN: 9781800326538
Dimensions: 198mm x 129mm x 19mm
Weight: unknown
304 pages