The Mysterious Case of the Alperton Angels
the Bestselling Richard & Judy Book Club Pick
Format:Paperback
Publisher:Profile Books Ltd
Published:14th Sep '23
£9.99
Available for immediate dispatch.
This paperback is available in other editions too: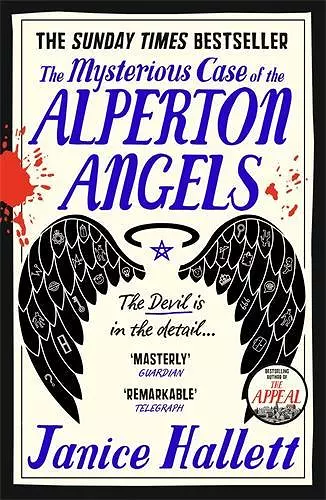 The new genre-busting crime novel from the bestselling author of The Appeal and The Twyford Code
*** THE SMASH HIT SUNDAY TIMES BESTSELLER *** *** THE GENRE-BUSTING RICHARD & JUDY BOOK CLUB PICK *** *** A TELEGRAPH BEST SUMMER BOOK 2023 *** *** THE NEW MYSTERY PHENOMENON FROM THE BESTSELLING AUTHOR OF THE APPEAL *** 'The queen of tricksy crime' - SUNDAY TIMES 'Her best so far' - MARIAN KEYES 'Another resounding success' - DAILY EXPRESS THE DEVIL IS IN THE DETAIL... True-crime author Amanda Bailey knows all about the notorious Alperton Angels cult. There have been dozens of books and films about the Angels, ever since the night nearly two decades ago, when they attempted to sacrifice a baby they believed to be the Antichrist. With all the cultists now dead - apart from their charismatic leader - it seems like there's nothing new to say about the Angels... until now. The Alperton baby has turned eighteen and can finally be interviewed, and if Amanda can track them down, it will be the scoop of the year. But rival author Oliver Menzies is just as smart, better connected, and is also on the baby's trail. As Amanda and Oliver are forced to collaborate, they realise that what everyone thinks they know about the Angels is wrong. The truth is something much darker and stranger. And the devilish story of the Alperton Angels is far from over...
What is remarkable is Hallett's ability to make her characters come alive... combined with her undoubted skill as a plotter, this places Hallett's books in the rare category of rereadable whodunnits * Telegraph *
What a treat to be back in a world created by the machiavellian Janice Hallett ... Another cracking mystery from a highly original author * Observer *
Her best so far... Deeply intriguing, warm and so much fun -- Marian Keyes, author of AGAIN, RACHEL
It's not enough to say that this book is fascinating, gripping and clever. It's an astonishing piece of work. Janice Hallett is playing a different ball game to the rest of us -- Ian Moore, author of DEATH AND CROISSANTS
A cunningly wrought puzzle with a nice streak of black humour * Mail on Sunday *
There is no one better at drip-feeding information, heightening tension and springing surprises * The Times (star pick) *
Janice Hallett, the author of The Appeal and The Twyford Code, is on a roll... [A] quirky, clever tale * The Times (Best Books of 2023) *
I'm agog at the skill with which Hallett uses her unconventional storytelling method, not just in unfolding the plot and springing surprises, but in building up memorable characters. Character and plot, wit and creepiness, are all in perfect balance. It's another resounding success * Daily Express *
Undeniably clever and captivating, and delivers a brilliant twist that will delight fans of her previous books * Sunday Express *
A gripping read, which keeps the reader guessing until the last page * Independent *
Mind-meltingly complicated, fiendishly well plotted, replete with delicious snark about publishing, clear-eyed and very funny about cold-blooded writerly ambition ... In its assured dexterity and exuberance, it is a bravura performance * Irish Times *
God bless Janice Hallett and her especially twisty thrillers that, if you work even a shred of detail out, you feel amazing. Her third novel is brilliant * Belfast Telegraph (Book of the Month) *
The indefatigable Janice Hallett is back with another ingenious-sounding brain twister * Metro *
As ever, the author's control of the material is masterly * Guardian *
Sharp humour and playfulness entertainingly coexist * Financial Times *
ISBN: 9781800810440
Dimensions: 198mm x 128mm x 38mm
Weight: 400g
512 pages
Main