Wish I Was Here
'The best writer you've never heard of' - Sunday Times
Format:Hardback
Publisher:Profile Books Ltd
Published:25th May '23
£15.29 was £16.99
Available for immediate dispatch.
This hardback is available in another edition too: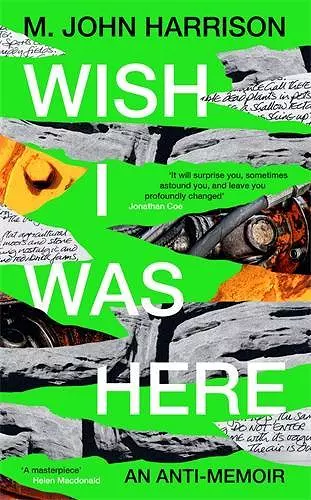 One of our greatest and most original living writers sets out the perils of the writing life with joyful provocation
'Is M John Harrison the best writer at work today? He's certainly among the deftest and most original, producing immaculately odd sentences in any genre he chooses' Olivia Laing, Summer Pick of 2023, Guardian 'Wish I Was Here by M John Harrison is a revival of the writer's memoir ... slippery and fascinating as any of his fiction' Jonathan Coe, Summer Pick of 2023, Guardian M. John Harrison has produced one of the greatest bodies of fiction of any living British author, encompassing space opera, speculative fiction, fantasy, magical and literary realism. But is there even an M. John Harrison and where do we find him? This is the question the author asks in this memoir-as-mystery, turning for clues to forty years of notebooking: 'A note or it never happened. A note or you never looked.' Are these notebooks, or 'nowtbooks', records of failed presence? How do they shine light on a childhood in the industrial Midlands, a portrait of the young artist in countercultural London, on an adulthood of restless escape into hill and moorland landscapes? And do they tell us anything about the writing of the books, each one so different from the last that it might have been written by another version of the author? With aphoristic daring and laconic wit, this anti-memoir will fascinate you and delight you. It confirms M. John Harrison still further in his status as the most original British writer of his generation.
One of the best writers currently at work in English -- Robert Macfarlane, author of The Wild Places
Hilarious and haunting -- William Gibson, author of Neuromancer
'Harrison is the shape-shifting master of absent and elusive things, many of them absent and eluding in Barnes and the Peak District. In this mesmerising book, the author - or rather his style - goes in search of what may have been his memories of different versions of his life. The result is an enchantment of instability, usually ungraspable, always intense.' -- Neil MacGregor, author of Living with the Gods
A deep dive into the back-and-forth, up-down, sideways mind of a true genius. An immersive pleasure and a literary adventure -- Monique Roffey, author of The Mermaid of Black Conch
He is one of the very great writers alive today -- China Miéville, author of Perdido Street Station
An extraordinary writer and an extraordinary book. I don't know how to describe it, which is to say that I'll read it again, and again -- Helen Castor, author of She-Wolves
M. John Harrison puts to work a writerly consciousness and imaginativeness like no other. Wish I Was Here doesn't reinvent memoir; it quietly constructs an entire new ballpark -- Isabel Waidner, author of Sterling Karat Gold
I love this book, even if I don't know how to describe it. Is it a memoir? Is it a handbook for writers? As always with M John Harrison, you're never quite sure what you're reading or where it will take you next. There are only a few certainties: that it will surprise you, sometimes astound you, and leave you profoundly changed -- Jonathan Coe, author of The Rotters' Club
Wish I Was Here is a masterpiece. I don't use that word lightly: I've not loved a book as much as this for years. Pleating together the quotidian and fantastic, the material and ineffable, it is at once a beguiling autobiography and a sustained interrogation of genre, craft, and the uses of history, and a perfect instantiation of what it is to write and what it is to live. Formally inventive, constantly surprising, M John Harrison has written an archaeology of fragments that shivers with wholeness. It's exquisite -- Helen Macdonald, author of H is for Hawk
What Wish I Was Here does triumphantly is to capture the feeling of living in the 21st century with all its anxieties ... wondrous and self-defining and defiant * Guardian *
The best writer you've never heard of * Sunday Times *
This book is old school experiment, several unrelated episodes from a literary reality show, a kind of negative biography with a big author-shaped hole in the middle waiting for the reader to fill based on all the evidence around it. It's also one of the best books I've read so far this year * International Times *
This is one of the most original books about writing that I have read, in part because Harrison is as profound about the art as he is helpful on the craft ... destabilising, witty, exhilarating - an important contribution to the genre's evolution * i Paper *
So wholly original that a label doesn't do it justice ... Wish I Was Here will leave you bewildered * New Statesman *
Harrison captures the stultifying and and generative landscape of post-industrial England better than anyone else * Totally Dublin *
It's extraordinary. Profound, hilarious, precise, vagrant and speculative. And always intensely good company. The sort of book that makes writing seem possible again. (Or is it impossible?) * Brian Dillon *
M. John Harrison's 'anti-memoir' is a masterpiece. Broad in scope and beautifully written, this unconventional autobiography contains some of the best advice struggling writers will ever receive * Nicolas Lezard, The Spectator *
ISBN: 9781800812970
Dimensions: 218mm x 138mm x 28mm
Weight: 335g
224 pages
Main