Haruko/Love Poems
Format:Paperback
Publisher:Profile Books Ltd
Published:26th Jan '23
£9.99
Available for immediate dispatch.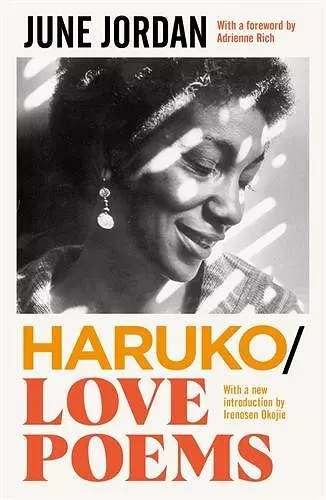 Searingly beautiful poems about compassion, resistance and desire by an iconic Black American activist and writer
In trailblazing poet, essayist, teacher and activist June Jordan's poems, love is a vision of revolutionary solidarity, crossing borders both emotional and literal with an outstretched hand. Haruko traces the faltering arc of a passionate love affair with another woman while Love Poems encompasses relationships with men and women, political resistance, the need for self-care in a demanding, uncaring world and apocalyptic visions of the eruption of Mount Vesuvius that destroyed Pompeii and Herculaneum. A contemporary of Alice Walker, Toni Morrison and Audre Lorde, June Jordan's spectacular poetry remains profoundly politically potent, lyrically inventive and breathtakingly romantic. First published in 1994, Haruko/ Love Poems is a vitally important modern classic.
Praise for June Jordan: Jordan puts love and delight in her poems, not just vengeance and justice... Writing is an act of faith in a future where meaning is possible. -- Elisa Gabbert * The New York Times *
A powerful voice for radical love and justice. June Jordan is a poet for the ages. * Poets.org *
A wonderfully direct and heartfelt love poet... the poetry of June Jordan is fully alive, set free in brilliant, timeless flight. -- Carol Rumens * Guardian *
A depth of feeling and a vibrancy which just sings out from the page ... lucid, strong, and accessible, singing of sexual desire and resistance against tyrannies * Buzz Books *
ISBN: 9781800814813
Dimensions: 196mm x 126mm x 16mm
Weight: 150g
176 pages
Main - Classic Edition