The Feminist Killjoy Handbook
Format:Paperback
Publisher:Penguin Books Ltd
Published:7th Mar '24
£10.99
This title is due to be published on 7th March, and will be despatched as soon as possible.
This paperback is available in other editions too: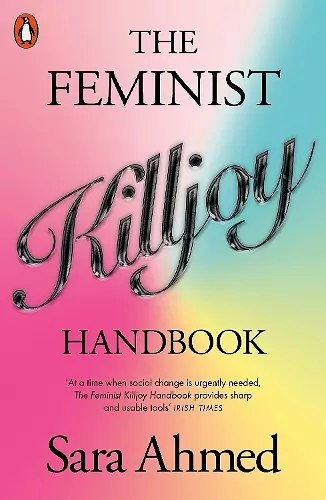 'Not only a dazzling analysis of the workings of sexism, but a balm for the soul. It will teach you how to survive and how to transform the world'Hannah Dawson

We have to keep saying it because they keep doing it.

Do colleagues roll their eyes in a meeting when you use words like sexism or racism? Do you refuse to laugh at jokes that aren't funny? Have you been called divisive for pointing out a division? Then you are a feminist killjoy, and this handbook is for you.

The term killjoy has been used to dismiss feminism by claiming that it causes misery. But by naming ourselves feminist killjoys, we recover a feminist history, turning it into a source of strength as well as an inspiration.

Drawing on her own stories and those of others, especially Black and brown feminists and queer thinkers, Sara Ahmed combines depth of thought with honesty and intimacy. The Feminist Killjoy Handbook unpicks the lies our culture tells us and provides a form of solidarity and companionship that can be returned to over a lifetime.
A deliberate intervention written in direct and accessible prose, building and nurturing the community it addresses...at a time when social change is urgently needed, The Feminist Killjoy Handbook provides sharp and usable tools for readers who have been made to feel isolated, insignificant and difficult. It is a generous offering from an important theorist, and highly recommended -- Carol Ballantine * Irish Times *
The pioneering theorist Sara Ahmed's The Feminist Killjoy Handbook ... subverts guidebooks wonderfully * New Statesman *
Odd and exciting to let out a shout as one reads a book of theory, theory written for and about the ordinary outrages that demand a feminist response. This book releases a sound that emerges from the full diaphragm, a life force held in check for too long. Ahmed moves from scene to scene with clarity, rage, and joy, building through each refrain to mark the brutal violence of everyday encounters and to show us what a life-affirming response can be. Ahmed thinks in the middle of rage, never letting go of the possibility of joyful resistance, writing, turning over what she just wrote, showing how "obstinacy" is one form for the desire to survive. And yet, throughout, the humility of this brilliant feminist thinker shines through. This book is a great gift, enormously important for overcoming this vicious trans/feminist divide, showing how anti-racism and the struggle for disability rights is central to feminist and queer thinking and politics -- Judith Butler
In this fervent manifesto, Ahmed brings impressive clarity to a field of study often opaque in the hands of others. Admirers of Maggie Nelson's The Argonauts should take note * Publishers Weekly *
Combines her signature humor—bitingly funny, in this case—with accessible language and theoretical discourse, making this title as appropriate for university courses as it is for self-identified "feminist killjoys," people who point out sexist comments or don't laugh at offensive jokes… This book arms readers with a sense of vital energy, often lost due to burnout, compassion fatigue, and microaggressions. Audiences curious about navigating the intersection between feminism and daily life, intellectualism, poetry, and activism will love this title -- Emily Bowles * Library Journal *
Feminist and social activists are certain to find the book encouraging. A good reminder that the work of activists is often challenging yet important * Kirkus *
A celebration ... Ahmed, one of the world's leading feminist and queer theorists, is both clever and generous, and has a talent for bringing her readers with her, without ever dumbing down or sugar-coating her politics, love of theory, or lived experience as a queer woman of colour ... Ahmed addresses the challenges of the present and her ongoing project of platforming and protecting the feminist killjoy remains vital and refreshing -- Zora Simic * Inside Story *
Sara Ahmed's Feminist Killjoy Handbook is not only a dazzling analysis of the workings of sexism, but a balm for the soul. Ahmed's insight that being a feminist is being a killjoy is as consoling as it is revelatory. It makes sense of the bad atmosphere, the uncomfortable feelings that swirl around feminism; it gives you ballast in the storm. Read it. Give it to everyone. It will teach you how to survive and how to transform the world -- Hannah Dawson
Thoughtful and thought-provoking, this book is filled with great insights. We should thank Sara Ahmed not for killing joy, but for spreading it -- Azar Nafisi, author of READING LOLITA IN TEHRAN
Sara Ahmed always has her finger on the pulse of the times -- Angela Y Davis
Yes. This book should be in your hands, because it changes what we can do with our hands. Outstretched in collaboration, extended as a fence, raised in fists of protest, intertwined with visionary grace. Maybe you will even write on your hand to remember: after reading this book we have new possibilities for what our hands can mean -- Alexis Pauline Gumbs
The feminist killjoy reclaims an ugly stereotype and gives it voice. In maxims, equations, truths and commitments, this brilliant survival manual retells feminism, spanning a pantheon of queer, black, awkward, eye-rolling, angry, laughing killjoys. Sara Ahmed tells feminist stories that we know in our bodies, and encounter in our daily lives. Her work literally changes how we inhabit our worlds -- Lucy Delap
Sara Ahmed's work has long been the touchstone for feminist scholars like me, so I am delighted that she has brought together her most powerful ideas from nearly a quarter century of publishing to the non-academic reader. The Feminist Killjoy Handbook is exactly what we need: a cogent, powerful, practical guide to understanding our world and changing it for the better with our every interaction, and every day. This is the book I shall be pressing into the hands of every woman I care about for years to come. An absolute must read! -- Professor Sunny Singh
Sara Ahmed's The Feminist Killjoy Handbook is a down and dirty, ground-level primer on how the job of taking back feminism from technocrats can be accomplished -- Rafia Zakaria
The Feminist Killjoy Handbook is a fun read when you are the feminist killjoy. I enjoyed the act of naming so many of my experiences at family dinners, work, and in my childhood friend-group texts. I think other feminist killjoys will appreciate the survival notes given so generously. But most importantly, it names the violence that is known to happen behind closed doors and the bravery it takes to speak up in intimate relationships. I highly recommend this book to feminist killjoys and even those quiet feminists teetering on embracing the killjoy label. This book will serve as a guide I wish I'd had when I started this journey -- Prisca Dorcas Mojica Rodríguez
The iconic feminist Killjoy Sara Ahmed rides her horse, stands her ground, speaks her truth in this mighty little book. Her powerful words blaze a trail of tough love honed-in the saddle of real life. Armed with the gift of her wisdom, a new generation of Black and brown Killjoys will have the weapons to outwit the tyranny of white supremacist heteropatriarchy - subverting its machinations to define our minds and bodies with our collective Killjoy voice -- Heidi Safia Mirza * author of YOUNG, FEMALE AND BLACK *
Feminist books often encourage us to make the world a more just place, but without offering us the tools to navigate the inevitable pushback that we will likely encounter. Thankfully, Sara Ahmed's The Feminist Killjoy Handbook provides the latter. Simultaneously inspiring and practical—a wonderful guide for becoming a more powerful and thoughtful social justice activist in everyday situations -- Julia Serano
Sara Ahmed's profound reflection on the feminist killjoy is in fact a joyous experience for folks who understand the impact of the trivializing, displacement, and erasure of our anti-racist feminist commitments. The Feminist Killjoy Handbook (not a "how to" but a "living as a feminist" handbook) connects anti-racist feminists across generations and teaches us that living a feminist life/being a feminist killjoy is a joyful and collective form of resistance that is capacious enough to include us all. A moving and brilliant book that belongs in our libraries, homes, classrooms, and social movements -- Chandra Talpade Mohanty
Sara Ahmed's work has been such a joy . . . It brings theory back into play in a way that is conceptually patient, imaginative, and urgent. That combination of patience and urgency is difficult to find -- Judith Butler
An incredible queer theorist . . . The compelling way in which Ahmed uses metaphors to describe structural inequalities evidently strikes a chord with people, from the "vandal", to, most famously, the 'feminist killjoy'. The figure of the 'feminist killjoy' takes a fundamental role in everything Ahmed does; wilful in her disruption of problematic narratives and taking up space unapologetically -- Sana Ali * Varsity *
Sara Ahmed is an increasingly cited source in how to navigate abuses of power and change working conditions . . . and in how to navigate the realities of what happens after people speak up and speak out. Her approach to feminist theory and institutional critique is pragmatic, with books such as Living a Feminist Life (2017) or her longstanding blog feministkilljoys providing detailed studies of how rhetorics of 'equality' and 'diversity' get dragged through intimate and bureaucratic tangles * ArtReview *
The Feminist Killjoy Handbook is full of pithy observations, inversions, and diagnoses … greatly empowering * AAG Review of Books *
ISBN: 9781802061895
Dimensions: 198mm x 129mm x 15mm
Weight: 200g
256 pages