So to Speak
Format:Paperback
Publisher:Penguin Books Ltd
Published:27th Jul '23
£12.99
Available for immediate dispatch.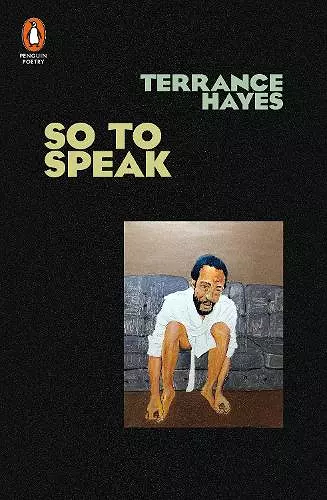 'Vital and energetic . . . These are the poems of a certain age: scars so old others must tell you how they are made . . . Hayes is a singular poet, and this book a singular achievement' Nick Laird
A dazzling new collection of poems from the T. S. Eliot Prize-shortlisted author of American Sonnets for My Past and Future Assassin

In So to Speak, the dazzling new collection by Terrance Hayes, the poet seeks to understand how we see ourselves now. He draws the reader into fabulous fables, American sonnets and do-it-yourself sestinas as he roves among the predicaments of the present and recent past, piecing together a new map of our times.Here, a tree frog sings to overcome its fear of birds. Talking cats tell jokes in the Jim Crow South. Green beans bling in the mouth of Lil Wayne, and elegies for David Berman and George Floyd unfold amid the global pandemic. Here, too, Hayes contemplates fatherhood, history and longing, in urgent, personal poems of a remarkable openness and humanity.Masterful, contemplative and massively alive, So to Speak shows one of contemporary poetry's great innovators at his muscular best. It is a treasure-trove of exploration, and an invitation to each of us to engage in the creativity that makes and remakes our world. It is, above all, the mature, restless work of a leading poetic voice.
ISBN: 9781802063387
Dimensions: 234mm x 153mm x 8mm
Weight: 147g
112 pages