The Birthday Girl
An absolutely unputdownable crime thriller
Format:Paperback
Publisher:Canelo
Published:6th Apr '23
£9.99
Available for immediate dispatch.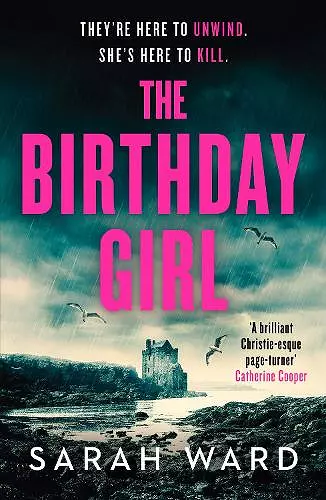 Welcome to Eldey, an island with deadly secrets.
Mona: a carefree artist, staying at the Cloister to work on her illustrations.
Beth: the harried mother of a toddler, on the remote Welsh island for a weekend with her family.
Charlotte: a reluctant stepmother who wanted a romantic getaway with her husband.
One of them is a serial killer who poisoned four of her friends at her eleventh birthday party.
They all fit the profile. Who will risk everything to kill again?
An absolutely gripping Welsh crime novel, perfect for fans of Sarah Pearse and Lucy Foley.
Praise for
The Birthday Girl
'A brilliant Christie-esque page-turner with an amazing sense of location' Catherine Cooper, Sunday Times bestselling author of The Chalet
'Atmospheric, tense, with lots of twists and turns, I couldn't put this down. With a nod to Agatha Christie, the sharp narrative builds to a nail-biting climax.' Simon McCleave, author of The Dark Tide
'A pitch-perfect start to a new thriller series' Michael Wood, author of Silent Victim
'There is more than a whiff of Agatha Christie here, which made The Birthday Girlso satisfyingly compelling that I read into the small hours to finish it' Alis Hawkins, author of A Bitter Remedy
'Suspense and intrigue abound in this gripping, claustrophobic murder mystery set on a sinister Welsh island' Roz Watkins, author of The Devil's Dice
'Takes the classic Christie-esque trope of a remote location and a closed circle of suspects and reinvents it for the 21st Century, weaving a tale of murder, madness, and revenge. I absolutely loved it.' Amanda Mason, author of The Hiding Place
'Sharp, elegantly written, and dripping with suspense. A wonderfully crafted 'closed room' mystery that had me turning the pages at record speed.' J. A. Corrigan, author of The Nurse
'Cleverly plotted, full of twists and intrigue, with an ending that is both dramatic and satisfying' Jane Bettany, author of In Cold Blood
'A taut, intelligent thriller, elegantly written with an eerie atmosphere and an addictive plot. I utterly love this sharp, clever new series!' Victoria Dowd, author of A Book of Murder
'The Birthday Girl is a satisfying contemporary page-turner with more than a whiff of Christie's Golden Age locked-room mysteries about it. Compelling reading!' Marnie Riches, author of All The Pretty Ones
'A masterpiece of gothic, atmospheric, Agatha Christie-like mystery. If you love...
ISBN: 9781804363164
Dimensions: 198mm x 129mm x 20mm
Weight: unknown
336 pages