Wahala
Three friends, three 'perfect' lives. Here Comes Trouble
Format:Paperback
Publisher:Transworld Publishers Ltd
Published:2nd Feb '23
£8.99
Available for immediate dispatch.
This paperback is available in another edition too: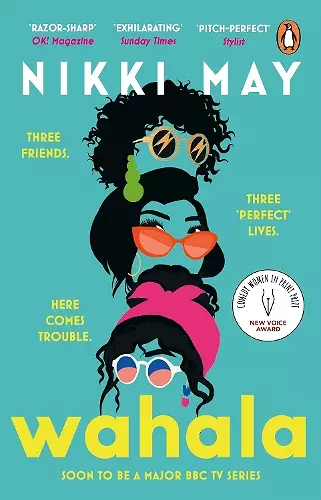 SOON TO BE A MAJOR BBC TV SERIES
WINNER OF THE COMEDY WOMEN IN PRINT NEWCOMER AWARD
LONGLISTED FOR THE GOLDSBORO BOOKS GLASS BELL AWARD

'"WAHALA" means trouble and there's plenty of it' GUARDIAN
'Full of food, humour and pitch-perfect observation' STYLIST
'All the ride-or-die realness of female friendship'RED MAGAZINE

Three friends.
Three 'perfect' lives (or so they pretend).
Here comes Trouble

Ronke wants Happily Ever After and 2.2. kids. She's dating Kayode and wants him to be 'the one'. Her friends think he's just another in a long line of dodgy Nigerian boyfriends.

Boo has just what Ronke wants - a kind husband, a gorgeous child. But she's frustrated, unfulfilled, and desperate to remember who she used to be.

Simi is the golden one with the perfect lifestyle and a career. No one knows she's crippled by impostor syndrome and tempted to pack it all in each time her boss mentions her 'urban vibe.' Her husband thinks they're trying for a baby. She's not.

When the high-flying, charismatic Isobel explodes into the group, she seems to bring out the best in each woman. But the more Isobel intervenes, the more chaos she sows, until Ronke, Simi, and Boo's lifelong friendship begins to crack. How close to the edge will she push them?


READERS ARE OBSESSED WITH WAHALA

'This book is absolute fire. I could not put it down. Fantastically written, the story is so engaging and tense. Sexy, dark, addictive. What an incredible novel' *****Reader review

'Dark and addictive with a surprising twist (that i won't give away!) and Nikki's writing is completely flawless' *****

'I couldn't believe it was a debut. I couldn't put it down. Nikki May has written a fantastic story of friendship, revenge and jealousy' *****

'Wonderful characters with plenty of rich and vibrant detail of their shared culture from hair to food' *****
Refreshing and original. Portrays a London steeped in the colours and sounds of Lagos * SUNDAY TIMES, Best popular fiction books of 2022 so far *
Full of food, humour and pitch-perfect observation * STYLIST MAGAZINE, Books you cannot miss in 2022 *
All the ride or die realness of female friendship is captured perfectly in this funny, multi-layered, just-another-chapter-before-you-turn-out-the-light novel. * RED MAGAZINE *
This is the book on everyone's lips...a razor-sharp book about friendship that will have you on the edge of your seat. With a cast of engaging characters, this bold tale of friendship, race and love will leave you marvelling at this fresh new voice in fiction. One of 2022's most exciting debuts * MY WEEKLY, Editor's Pick *
It's surprising, it's fun, it's incredibly funny and will give you characters you'll take to your heart in all their flawed glory, keeping you hooked to the very last page * Editor's Choice, BBC Radio 4 'Open Book' *
Beautifully written and fabulously fresh debut. It's sad, funny, clever and contains important messages. Utterly addictive and my hands-down favourite this week * DAILY MAIL *
I have a feeling this book is going to be huge! It examines friendships that are held together by the thinnest of threads, all the doubts and questions that come from the choices women face, self-destruction, good intentions, bad intentions and a creeping sense of... well, trouble * MARIANNE CRONIN, author of THE ONE HUNDRED YEARS OF LENNI AND MARGOT *
A gloriously biting story of secrets and friendships * FABULOUS MAGAZINE *
''Wahala' means 'trouble' and there's plenty of it in this entertaining debut. A fascinating, funny and nuanced look at identity and female friendship * GUARDIAN *
Has all the makings of a modern blockbuster * VOGUE *
Pull up a seat at the brunch table for this delicious debut novel as the lives of three women are unsettled by a seductive interloper. WAHALA is like the best gossip with friends: witty, tense, addictive * ABIGAIL DEAN, author of GIRL A *
A fun and juicy read with a dash of drama, just like all the best friendships * GOOD HOUSEKEEPING *
I just raced through Wahala. Nikki May writes so well about friendship, food, fashion and the many ways modern women can stumble in their careers and personal lives * CLARE CHAMBERS, author of SMALL PLEASURES *

Wow, what a debut! I was left wanting more - more of Ronke, Boo and Simi and more of Nikki's brilliant writing about food and friendship. Warm and fun, I loved watching the more sinister side to the story emerge. Fantastic!
* SARAH PEARSE, author of THE SANATORIUM *
A funny, tragic, piercing portrait of modern women and friendship written in glittering and discerning prose * EMMA STONEX, Author of THE LAMPLIGHTERS *
WAHALA
delivers! Nikki's style is warm and comforting on one page and razor-sharp on the next. There's a twist folks, and it's not one I saw coming. * LIZZY DENT, author of THE SUMMER JOB and THE SET-UP *
Sometimes it's not enough to just read a novel, you actually want to climb inside it. I adored hanging out with Ronke, Boo and Simi and I miss them already. * CLARE POOLEY, author of THE AUTHENTICITY PROJECT *
Bold, juicy and real! WAHALA is tense and powerful, it's friendship at its best and its worst, and it's THE book to read this year! * LAUREN NORTH, author of SAFE AT HOME *
Sharp, precise, unapologetic, modern. In one word, Exquisite! * Lolá Ákínmádé Åkerström, author of IN EVERY MIRROR SHE'S BLACK *
Dazzling and bursting with life. WAHALA is as joyous, complex and all-encompassing as female friendship itself. I loved it. * TAMMY COHEN, author of THE WEDDING PARTY *
LOVED
Wahala.
Funny and sharp - I completely fell in love with the characters. Definitely one to add to your list * LAURA MARSHALL, Author of FRIEND REQUEST *
Dark, fresh, compelling - all about female friendship and with an outstanding cast of vibrant loveable (and not-so-loveable) characters * ELIZABETH KAY, Author of SEVEN LIES *
Fast-paced and filled with witty dialogue, and the book explores the depth and complexity of friendships between women * INDEPENDENT: 10 BEST BOOKS BY BLACK AUTHORS *
Wildly entertaining * THE BOOKSELLER *
I LOVED this absolute cracker of a book about the cuckoo in the next and a toxic female friendship. Highly recommended * LIZ NUGENT, author of LYING IN WAIT and OUR LITTLE CRUELTIES *
I loved hanging out with Ronke, Simi and Boo. A brilliant portrayal of how complicated friendships can sometimes be * NINA POTTELL *
This story draws you in and spits you out, breathless. Echoes of Atwood's
The Robber Bride
but so its own thing. A treat
.
* KATE SAWYER, author of THE STRANDING *
A heady mix of friendship, dark comedy and murder. WAHALA is razor-sharp * OK! MAGAZINE *
May's nuanced exploration of race and gender makes this refreshing. This will leave readers intrigued to see what May does next * PUBLISHER'S WEEKLY *
A terrific, witty debut * I-NEWS *
WAHALA hooked me from page one and kept me enthralled till the (TWIST!) end. A riot of colour and noise, friendships, enemies, secrets, lies and soul food. Written with a lightness of touch. Insightful, clever, and honest. I will read anything and everything she writes * ERICKA WALLER, author of DOG DAYS *
This gripping debut is a journey of friendship, revenge and finding your true self * STYLIST MAGAZINE *
Nikki May builds a propulsive reading experience as she slowly reveals Isobel's manipulations while keeping the reasons behind them hidden. Compelling character studies of each of the women don't shy away from the jealousies and judgements that sometimes make the line between friend and enemy razor thin...A fascinating look at the dark side of female friendship * KIRKUS *
A funny brilliant read * BELLA *
This will satisfy hungry appetites and blow your thriller taste buds. Deliciously spicy * HEAT MAGAZINE, Read of the Week *
Nikki May's sharp and funny debut novel is a delight on many levels. WAHALA bursts with life from start to finish * DAILY EXPRESS, 'Books of 2022' *
May seamlessly weaves love, betrayal, self-reflection, and Nigerian food, clothing, and customs into this fast-paced debut...Fans of domestic suspense will revel in this tale of friendship, family, and forgiveness, set in the cultural milieu of Lagos * LIBRARY JOURNAL *
Sharp and darkly witty * CULTURE FLY *
A rapid and wildly hilarious page-turner * COUNTRY AND TOWN HOUSE *
A hotly tipped debut for 2022 * DAILY EXPRESS *
WAHALA combines a frank and daring exploration of modern female friendship with a dark, punchy thriller * WOMAN AND HOME *
Fabulously fun * PRIMA MAGAZINE *
May's skill for weaving together entertaining personal problems with a wistfulness for Nigerian food, customs and culture is unparalleled. WAHALA is hard to put down - an energetic, entertaining interrogation of a fundamentally flawed friendship * I-NEWS *
Refreshing and original. Exhilarating * SUNDAY TIMES, Best Popular Fiction of 2022 *
Contemporary female friendship goes glam in this lively debut novel with remarkable depth * WASHINGTON POST *
I would definitely recommend this book to friends. I already have! * Recommended Read, BBC Radio 2 Book Club *
Sharply observed ... sophisticated and culturally adept ... May is a masterful chronicler of Black upper-middle-class lie and ennui in Britain. WAHALA is both great fun and extremely smart in how it captures some of the central issues in modern city living: women's evolving roles in home and work, interracial relationships and multicultural identity, the current competition that runs through so many friendships and daily interactions and, most of all, how easily intimacy can morph into enmity * NPR.ORG *
This gripping debut is a journey of friendship, revenge and finding your true self * STYLIST MAGAZINE *
Witty-wity-edge. Its humour is pin sharp * THE SHIFT, Sam Baker's Summer Reading *
A dazzling, rich and efferverscent read. It's relevant and full of life. The killer edge was unexpectedly shocking. Just fantastic in every way * NB MAGAZINE *
A glorious read * STYLIST MAGAZINE, 'The Style List' *
Spicy as Aunty K's moin moin, satisfying as a plate of Ronke's jollof rice * SAGA MAGAZINE *
Pacy, fun and gripping ... May wanted to write "a brown Sex and the City, or a brown Big Little Lies" - we reckon WAHALA could be just as big * EVENING STANDARD, Faces of 2022 *
Like "Sex and the City" but set in London. And with mystery. And murder * COSMOPOLITAN *
The upshot is a funny, slightly murdery story about three women and their
wahala
, or "trouble" - their boyfriends, their professional aspirations, and their weaves * GLAMOUR MAGAZINE *
The novel's strength lies in May's attention to her main character's identities. May's breezy prose is well-suited to these moments of casual intimacy, unfolding over drinks, at the hairdresser's or at the kitchen table, where all the best gossip takes place * NEW YORK TIMES *
WAHALA combines a frank and daring exploration of modern female friendship with a dark, punchy thriller * WOMAN AND HOME *
Some of the smartest reading fun I've had all year * DAISY BUCHANAN *
ISBN: 9781804990872
Dimensions: 199mm x 129mm x 25mm
Weight: 265g
384 pages