Unlawful Killings
Life, Love and Murder: Trials at the Old Bailey - The instant Sunday Times bestseller
Her Honour Wendy Joseph author
Format:Paperback
Publisher:Transworld Publishers Ltd
Published:2nd Mar '23
£8.99
Available to order, but very limited on stock - if we have issues obtaining a copy, we will let you know.
This paperback is available in another edition too: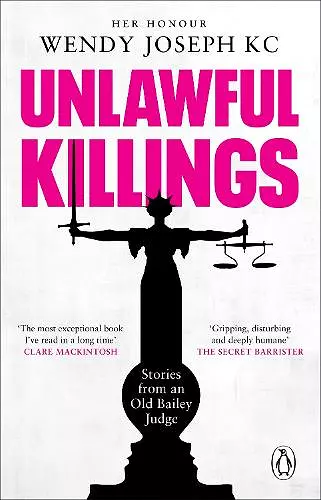 THE INSTANT SUNDAY TIMES BESTSELLER
WINNER OF THE CWA GOLD DAGGER FOR NON-FICTION 2023

'Wendy Joseph's gripping account of the law at work reads like a cliffhanger.' Sunday Times

'Absolutely superb. 5 stars for sheer readability alone. Her Honour entertains as she educates us about murder, about the law and about how we human beings are shaped as we create the culture we live with.' PHILIPPA PERRY, author of THE BOOK YOU WISH YOUR PARENTS HAD READ

___________________________________________________________________________________
'Every day in the UK lives are suddenly, brutally, wickedly taken away. Victims are shot or stabbed. Less often they are strangled or suffocated or beaten to death. Rarely they are poisoned, pushed off high buildings, drowned or set alight. Then there are the many who are killed by dangerous drivers, or corporate gross negligence. There are a lot of ways you can kill someone. I know because I've seen most of them at close quarters.'


High-profile murder cases all too often grab our attention in dramatic media headlines - for every unlawful death tells a story. But, unlike most of us, a judge doesn't get to turn the page and move on. Nor does the defendant, or the family of the victim, nor the many other people who populate the court room.

And yet, each of us has a vested interest in what happens there. And while most people have only the sketchiest idea of what happens inside a Crown Court, any one of us could end up in the witness-box or even in the dock.

With breath-taking skill and deep compassion, the author describes how cases unfold and illustrates exactly what it's like to be a murder trial judge and a witness to human good and bad. Sometimes very bad.

The fracture lines that run through our society are becoming harder and harder to ignore. From a unique vantage point, the author warns that we do so at our peril.
_____________________________________________________________________________________________
'The most exceptional book I have read in a long time.' CLARE MACKINTOSH

'A very rare gem. written with authority, humility and compassion. Compellingly clever and sharply honest.' PROFESSOR DAME SUE BLACK, author of ALL THAT REMAINS

'Riveting, thought-provoking, and very, very entertaining. I...
Absolutely superb. 5 stars for sheer readability alone. Her Honour entertains as she educates us about murder, about the law and about how we human beings are shaped as we create the culture we live with. -- Philippa Perry, author of The Book You Wish Your Parents Had Read
Fresh, compelling, well-written and unflinchingly authentic. -- Emily Penninck * the i newspaper *
I really enjoyed this book. If ever I was on trial I would want my judge to be this one. She is compassionate, in control and understands the reality that exists outside the courtroom. Anyone who has worked in the Crown Court would recognise how true to life the court room scenes are. The fictional crime scenarios make compelling stories. What is unique is that they are placed in a wider context which challenges the assumptions that lie behind our criminal justice policy. A great read for those who want to understand how the system works now and why it is going wrong. -- Cherie Blair CBE QC
I inhaled this: brilliant, clear-eyed, compassionate and fascinating. -- Olivia Potts, author of A Half Baked Idea
The most exceptional book I've read in a long time. As a police officer in a former life I was mostly terrified of judges, so it was incredible to have this glimpse behind the pomp and ceremony of criminal court. Readers will be intrigued by the insight into the mechanics of the law, but what really makes this sing is its humanity. I was moved to tears on more than one occasion, and am heartened to know there is such compassion among our judges. -- Clare Mackintosh
ISBN: 9781804990902
Dimensions: 196mm x 130mm x 20mm
Weight: 229g
336 pages